Love God, Hubby & farm
11 Years
Apr 13, 2008
8,372
426
326
I'm swamped in eggs and cannot buy another incubator!
We have been blessed with some beautiful Black Copper Marans (feathered legs, French standard) we bought as one day olds from Copper King on this board. These are Wade Jeane line, C-1. All of the flock are feathered and produce feathered babies. Egg coloring has been wonderful.
Eggs from this auction will ship on Monday June 14, as long as payment is received by Sunday night, 9:00 pm EST. If payment is received on Monday, they will ship on Tuesday, June 15.
If you don't want to purchase online in the form of an auction, but purchase directly from our farm, please pm and we'll be glad to do that as well. Pickups from our farm are allowed as well.
Here's a picture of some of the flock:
https://www.backyardchickens.com/forum/uploads/8875_nancymaran.jpg
We breed toward the French standards for Black Copper Marans. Our breeding flock meets these standards. For this you will receive a minimum of 12 eggs and more if they are available the day of shipping/pickup.
We are very care about selecting, carefully packing, packing materials, priority shipping and confirmation delivery. If extra(s) are available at the time of shipping, I'll include those as well. We only ship within the continental US.
We ship eggs in the same way we would like to receive them. We bubble wrap each egg separately, putting in a regular box (not an egg carton) which is then cushioned and set in a larger box. These are not the prepaid priority boxes but we use the large boxes that can be ordered through USPS as the standard mailing box. (b)Our mailing costs can often be higher than the prepaid boxes but we find that they arrive in better shape, so it's well worth the extra time, packing materials and shipping costs. Occasionally with a large order, we will use an even larger outside box. Even as carefully as we ship, we cannot guarantee that there will be no breakage in transit. We do not guarantee the percentage of your hatch as the incubators temperature and humidity are very variable. (/b) We will provide assistance to you during the hatch and help in every way possible to have the best hatch possible.
The shipping above is based upon priority mail and no insurance. If you want USPS insurance or express mailing instead of our regular priority shipping there will be an additional fee.
We are a chemical free farm and farm full-time. We feed our animals with the best feed, sprouted grains, fresh grasses, treats from the garden and loving care. For information about our farm, please feel free to visit us at
http://thegarryfarm.webs.com/
Please check out our feedback - in the old system
http://spreadsheets.google.com/pub?key=pcz6aC_klXJDTE8H01hR-RA
our current system
as well as prior auctions such as :
https://www.backyardchickens.com/forum/viewtopic.php?id=342207
We are only able to accept USPS money orders or paypal and ship only within the continental 48 US states and Alaska.
We also have feedback in the new system as you'll see above
Here are baby pics: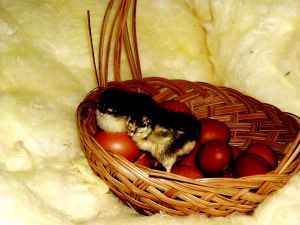 Please let me know if you have any questions via pm. Thanks and have a blessed day. Nancy