Love God, Hubby & farm
11 Years
Apr 13, 2008
8,372
426
326
I am listing this as a NO reserve auction at the request of many BYC'ers to our farm. Our silkies are laying very well in our wonderful Georgia weather... These eggs will be shipped the week of Jan 2,(Postal service is closed Monday for New Year's Holiday) if our farm receives prompt payment and hens continue their current pattern of laying which is expected
I will include all eggs which are available on the day of shipping. Payment will need to be made for this listing as soon as possible so I can get this package to the post office as quickly as possible. 12+ means if there are extra silkie eggs the day of shipping I will include them. (No guarantee of extras of course)
All The Garry Farm breeder silkies are crested, bearded, blue ear lobes, black skin, 5 toes. Our birds are separated by color, you will probably get white, black, blue, splash,and also some partridges.
Based on current laying patterns, I expect at least 6 to 8 of the eggs shipped will be non white but you will get some from all the other pens. I cannot guarantee this of course as we will begin to collect the eggs today!
Our flock is largely from Mbrobbins here on BYC, but also have silkies from other BYC'ers and others who have award winning birds. Have Bobby Porto lineage as well and other quality lines! Although all our breeders are show quality, not pet quality, I cannot guarantee that you will only get show winners, but it certainly helps when you have a winners gene pool working for you...
The fascination and love of silkies came recently to the farm as we hatched out our first silkies in 2010. And have been continually hatching since then! Our breeding areas are also so healthy and young.
We're enchanted by the characteristics of the silkies - naturally inquisitive, very friendly and responsive to both voice and sounds! I love to just sit with them and feed them treats. They really respond to affection and are really a fun pet for persons of all ages.Friendly and inquisitive, they are the epitome of the "pet Chicken" and love to be held and petted and even rocked. After loving them, I can surely see why emperors treasured them as pets and had the cooks prepare special treats for them.
When we sell these, we sell out of these baby chicks before they are listed for 3 days! and yes we are saving some of the best for our Farm such as this one: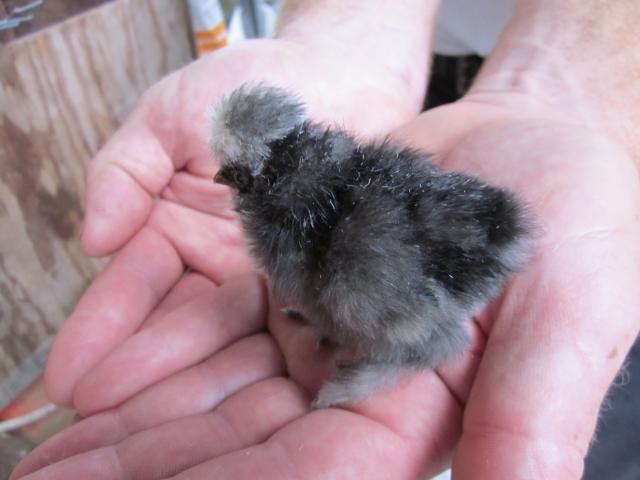 updated for added am eggs
and this one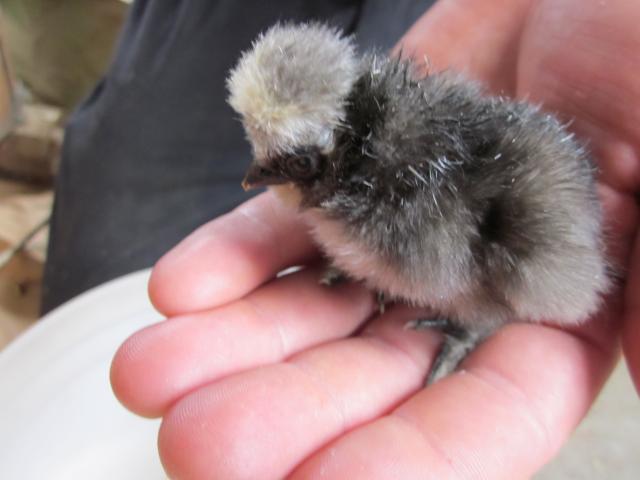 Here are several of our adults before separated into breeding areas: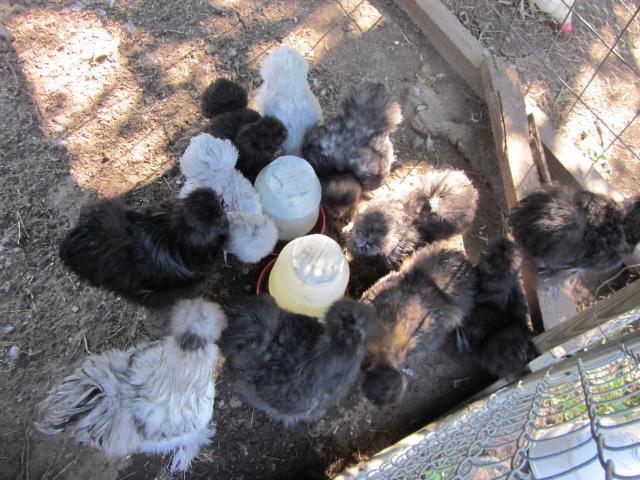 More adults:
This splash has filled out wonderfully wider and more showy...He is typy now, gotta get more recent photos up.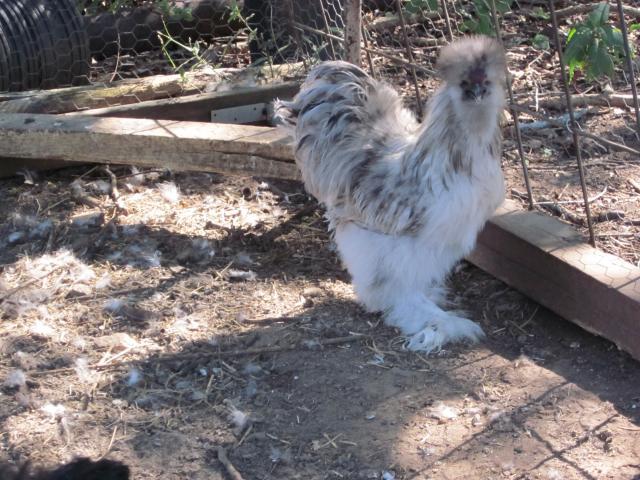 Some more photos of our silkies from the Garry Farm: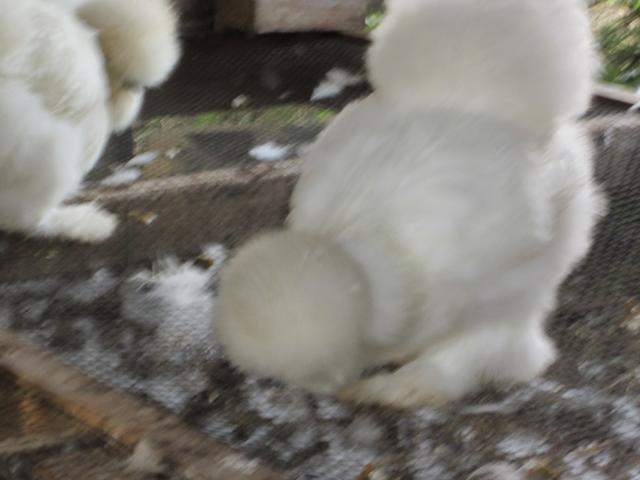 Love this splash gal who is still growing, she gets up the edge and wants to get in the camera - haven't named her - up for nominations - maybe splashy star!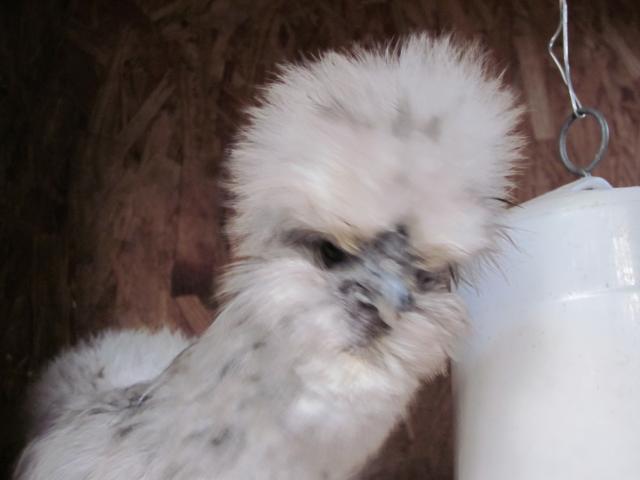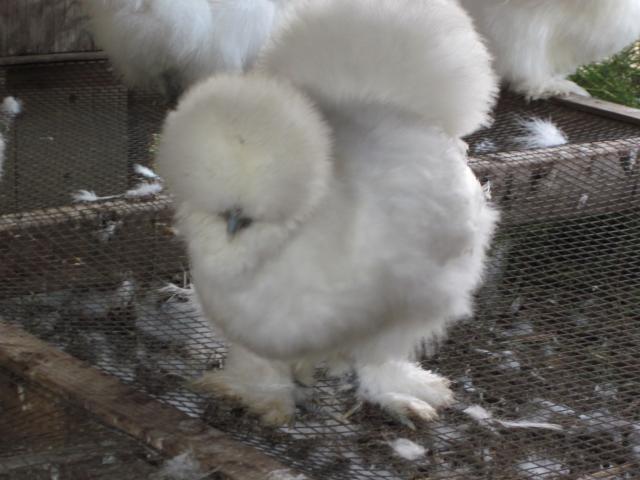 Here's a pretty trio...Black roo, great crest and bearded with splash and a blue hen...Really wonderful layers!
Here are some recent hatched of our eggs by DWEGG who was kind enough to send photos. And please if any of you have any baby photos we may share of these or our other eggs, please share them with me!!! Thanks DWEGG again and here are his babies: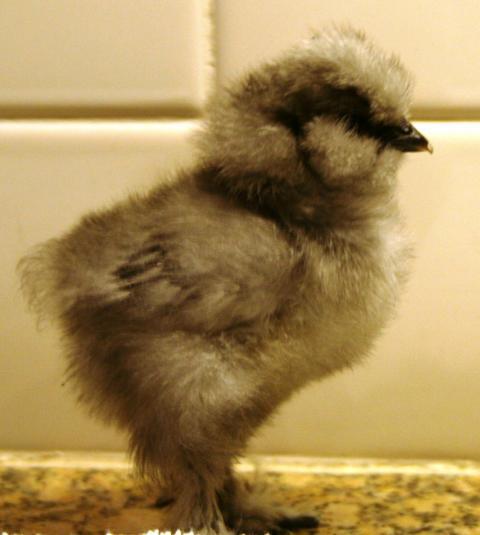 and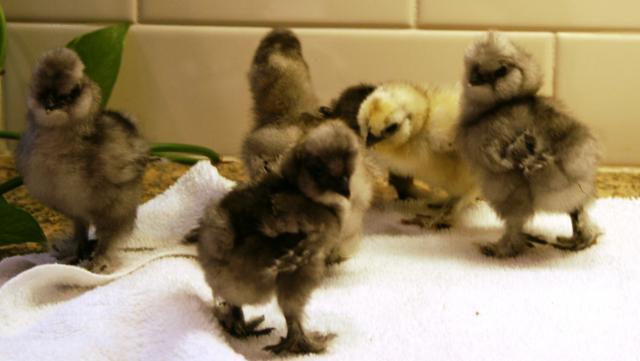 and here is a picture of a young cockerel we sold as a baby to a byc'er....Growing up Nicely and love that color!!!
I have been asked for more baby pictures so here goes, These are our very first silkies born on our farm!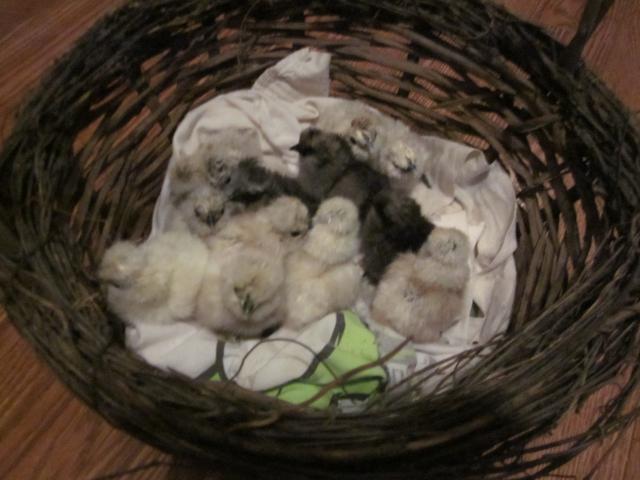 Here is the beginnings of our buff flock....Others have been born since then and I've been a bad mother not to keep enough photos when our silkies are babies! No buffs are available in this package....Hopefully in 2012, We have a small group of other buffs out now.... and some eggs in the incubator now so hopefully it will be a nice sized pen and diverse as well with several lines in it.

There are some pictures on our facebook page as well of some of the babies we have hatched from our eggs
Thought you might enjoy a few extra pics of our silkies (these are from all different ages as you can see!)
https://www.facebook.com/media/set/?set
… 2d49670d63
Thanks for letting me share and have a blessed, joy filled day! Happy New Years!Farmer Nancy
There have been several instances lately of folks borrowing photos without express permission from The Garry Farm.... I will be working on watermarks again this fall to try to deter this....Please do not borrow our photos without our written permission. It took so much of our farm effort and time to bring our birds to their present confirmation and in some cases over an hour or even two to get a useable photo shot... I'm sure you understand! Please pm if this is not clear.
The shipping is average cost based on our shipping rates. We ship eggs in the same way we would like to receive them. We bubble wrap each egg separately, putting in a regular box (not an egg carton) which is then cushioned and set in a larger box. These are not the prepaid priority boxes but we use the large boxes that can be ordered through USPS as the standard mailing box. Our mailing costs can often be higher than the prepaid boxes but we find that they arrive in better shape, so it's well worth the extra time, packing materials and shipping costs. Occasionally with a large order, we will use an even larger outside box. After carefully preparing you package we drive your eggs to the Post Office, where our local post office sets the egg shipments to the side to protect them. They are then placed on the truck on the top of all the other boxes!
Even as carefully as we ship, we cannot guarantee that there will be no breakage in transit. We do not guarantee the percentage of your hatch as many factors such as the incubators temperature and humidity, etc are very variable.
We will provide assistance to you during the hatch and help in every way possible to have the best hatch possible. Shipping to continental 48 states for this auction.
Payment for this listing will need to be through Paypal, no echecks please as they delay the shipment.
If you also want to place an order for silkie eggs, please just pm me.
Paypal address is
[email protected]
Please be sure your mailing address is correct and visible to us. Most mobile phone transactions do not allow the buyer to see the address. So please pm me the mailing address and any special mailing instructions (including asking post office to hold - for that we need your phone number for outside of the box
Please check out our feedback in the old system.
http://spreadsheets.google.com/pub?key=pcz6aC_klXJDTE8H01hR-RA
We also have feed back in the new system as you'll see above
For more information about our farm, please see
http://www.freewebs.com/thegarryfarm/
(testimonials are also available on that page) or see us on fbook at The Garry Farm
Please pm me with any questions. If you do not have paypal and wish to get some of our eggs, please pm for how to do this.. Thanks for your interest. (We farm full time so it will usually be this evening after 5:00 pm est before I can answer your questions, unless we get a rain shower) Happy bidding and Have a blessed day. Nancy
Last edited: