Two of our last hatch of the year are cockerels. We live in city limits, so we need to rehome them.
These guys are handled daily, so they are friendly. (The black one is a little more fidgety, though!) They turned 13 weeks old today, Friday 11/9. They are pretty small still. I imagine they'll be closer in size to their mother than their father. As the subject says, mom is a sweet little D'Uccle (a bantam), and dad is a gorgeous Blue Andalusian. (Both parents were ours, though we had to rehome the rooster when we moved into Seattle.)
We will meet you in Seattle or nearby.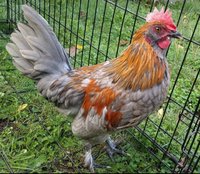 Their parents:
(The rooster and the speckled bantam hen in front of him)
Both parents as chicks

Last edited: