May 8, 2008
4,591
126
286
Last years seed swap was such a HUGE success, there was no doubt we would do it again. Here are the rules copied from the other thread. ..was thinking of adding another rule.. well, not a rule but an option. I remember last year I was sending seeds to the same folks over and over again... What if we wait 2 weeks til we ship. That way we can combine orders??? tell me what you think
Rules:
1.) Person A offers a packet of seeds. Packet can contain any number, but please try to send at least 6. Person B likes what is offered and says "I'll take those and in turn offer..." Person C likes those and offers another packet of seeds.
2.) To qualify for accepting an offer, you need to post what you are offering in return in the same post.
3.) When each trade is posted, please pm or email the person who offered the seeds and work out the shipping arrangements.
4.) The person receiving the seeds will pay no shipping because the person who sends them will have received their seeds without paying shipping as well. Shipping should be less on these than on the egg swaps, because the weight and packaging is so much less. This will keep the thread moving along without a lot of complications.
5.) Try to be as specific as possible about the seeds. If you know the zones where they grow, list 'em. If you know for a fact the seeds grew in your garden last year, list where you are
6) Seeds do not need to be heritage/heirloom/home-grown. If you have extra seeds from a seed order, go ahead and offer 'em.
(thanks to Shelleyd2008, since I stole her wording for the rules from the Crazy Quail / Gamebird Swap )
And I'll start it off with offering the orange cosmos I received from last years swap

It grew so huge and healthy, the compliments came all Spring and Summer ...and they are STILL in full bloom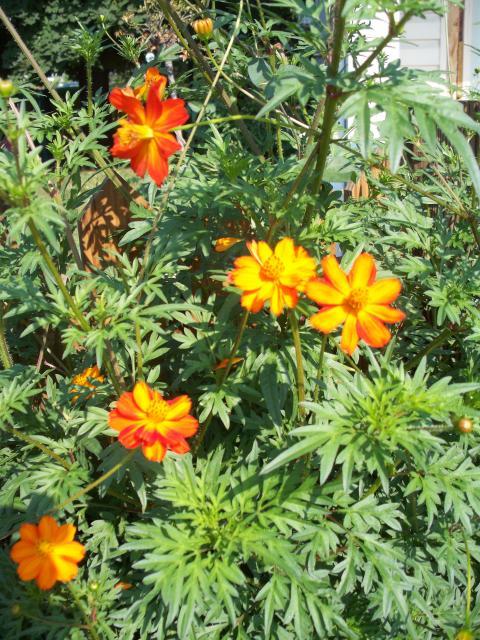 It'll be a sandwich baggy with plenty of seeds ...like 1,000

Last edited: