First, I'm sorry about the graphic pics of the dead chick but I thought perhaps they would help.

I lost one of my Houdan chicks today. It was fine about 2 hrs earlier and when I checked on it, it was lying dead on its stomach, legs stretched back and out, dead. It was 4 weeks old yesterday, appeared healthy, eyes clear, no nasal drainage or respiratory problems, poop normal, eating and drinking fine, no lethargy. It was active just like the other chicks in the same brooder.
I lost 2 Polish chicks from the same brooder at 1 wk old and 2 weeks old the same way. I posted about those chicks and it was suggested that I not use medicated feed, otherwise no real resolution about why they died. I stopped using medicated feed immediately. I have been using non-medicated poultry starter feed and they have access to fresh water all the time, the brooder is in the house so I check on them frequently, the temp under the heat lamp is 90-95' and they can go elsewhere in the brooder where it is cooler.
I have raised Silkie and Frizzle chicks and never have any deaths occur like this. Even Call ducklings, without any sudden suspicious deaths. Someone previously suggested necropsy. I don't think this is viral or a danger to my other chicks/chickens. These are the only chicks I have been losing. I have hatched out over 50 Silkie and Frizzle chicks this spring without any problems and about 30 Rhode Island Red chicks also. So I really didn't want to have to go that route.
The 2 Polish chicks I lost had nothing visibly wrong with them. The Houdan had an area on its back that never feathered out correctly and the toes count was wrong, see pics below. The missing feathers have not been plucked or fallen out, they were never there. You can see some tips of new feathers growing and thought it was odd but figured they would eventually come in.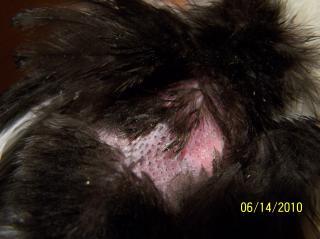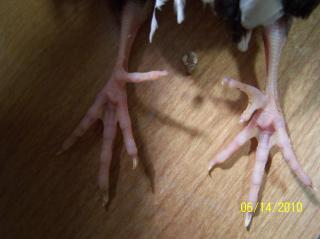 The abdomen where the yolk sac would have absorbed looked damp and puffy. At 4 weeks old it shouldn't be noticable.
The vent looks normal and the poop normal.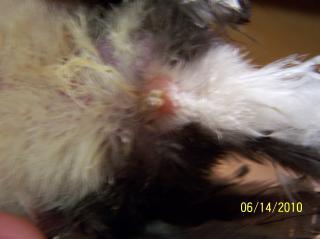 Eyes and nose clean.