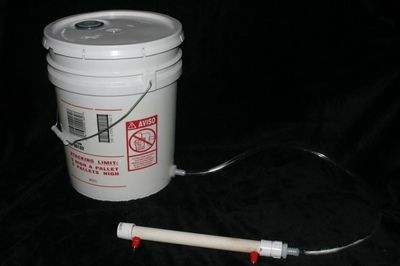 Introducing a nipple waterer for your backyard chickens
that's ready to fill, hang, and use.
Up for sale is our 5 Gallon Chicken/ Chick / Duck Poultry Nipple Drinker Watering System. This gravity kit attaches to our 2 nipple pvc attachment so you do not need to dedicate a hose line to the automatic waterer. All you need to do with this gravity kit is simply fill the 5 gallon pail and connect it to the waterer (as shown in pictures). As long as the 5 gallon pail has water in it will keep the waterers full.
Benefits from using are system:
Clean water all the time
Cleaner water means less chance of diseases
Saves time refilling
Saves money cheaper compared to waters its compactly
No need to go into coop or run to refill just install the nipple attachment inside coop or run and leave bucket outside
Saves space in small coops or runs install the nipple attachment inside coop or run and leave bucket outside
Features:
5 gallon bucket with lid
3 feet of hose
2 nipple pvc attachment
The watering system for more cleaner an efficient watering for your chickens
Poop-free water. Less waste. Less work.
Like most backyard chicken keepers, we started out with a standard galvanized gravity waterer. Problem is, dirt and poop get kicked up into the open saucer. Things can get pretty nasty, pretty quickly.
On the advice of a customer, we switched to a nipple waterer, and we haven't looked back. Instead of refreshing our chickens' water every day, we do so about once a week.
The water that goes in is the water that comes out, right into your chickens' mouths. So it lasts longer, saving you on trips to clean/change it out.
HOW TO ORDER:
PM me . Orders will be shipped in order of payment received.
PAYMENT:
I accept Paypal, Personal Check. You will get a PM and/or Email to confirm your order.
SHIPPING:
Priority shipping is $13.00
FEEDBACK:
Have you purchased from us in the past and want to leave feedback? You can do so on the old feedback system on BYC and/or on our feedback page on our website. Thank you for your business!
Last edited: