Hello,
I purchased my first ever batch of 5 chicks from a feed store in mid April. They were purchased as sexed pullets since I cannot have roosters in the city where I live. I'd appreciate your opinions on the 2 below. Thanks so much for your help (and I apologize if I've made any mistakes in the way I posted the pictures)!!
First is my 7 week old Silver Laced Cochin, Charlotte, is there any chance at all Charlotte is not a rooster?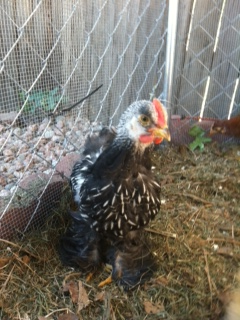 Next is Mary. She was sold to me as a buff orpington pullet. She was a little yellow chick but at 2 weeks we noticed her legs were green, so we assumed she was actually an Easter Egger. A few days ago, at 8 weeks, her comb started getting slightly pink at the base. I'm curious whether you think she's an Easter Egger and whether you think she's a pullet.
Thanks again!