Apr 1, 2008
13,102
79
326
My Coop
Rare Feathers Farm is proud to offer:
9 Hatching eggs from my rare breeds flock. These eggs are from my standard (large fowl) Spangled Russian Orloff pen. These are QUALITY birds from two select lines, combined into one breeding program (mine!) None of my birds have come from hatcheries. I do show my birds. None of the birds I use for breeding are not (or could not) be show birds. I don't believe in reproducing anything but the best.
These birds have very friendly, relatively quiet and have funny temperaments. They are extremely cold hardy and did well last year when we had over a week of 100+ degrees. They are a joy to have around and the hens lay VERY large, brown eggs. They also forage very well.
FAST PAYMENT IS CRITICAL IN GETTING THESE MAILED OUT IN A TIMELY MANNER!
That said, if you need extra time to pay or you want eggs but are not quite ready--please order from my website and let me know. I'm more than happy to make arrangements for a later ship date on non-auction eggs!
The eggs are shipped fresh!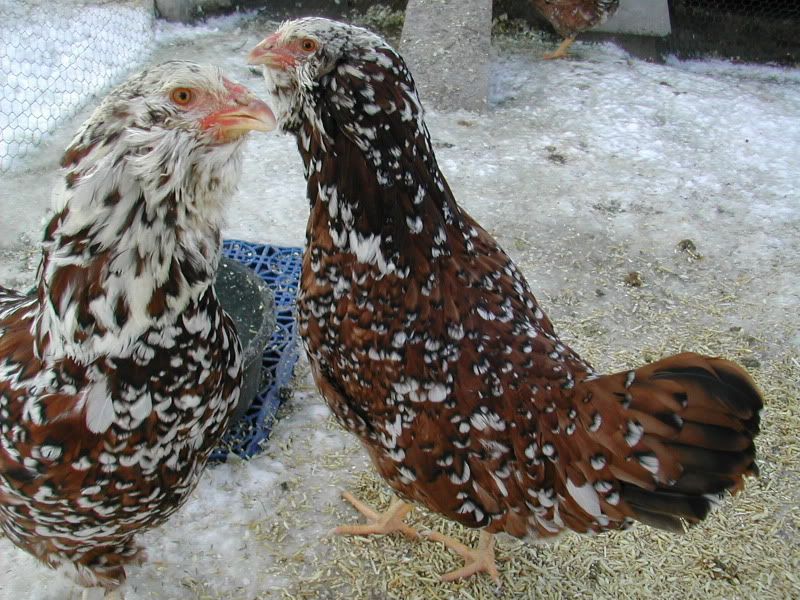 Hatching Info:
Chicken eggs take 21 days to hatch!
Additional Shipping Info:
Each egg will be individually wrapped to prevent breakage while they are in transit. I will send any/all extras just in case any of the eggs do crack or break.
I will ship the eggs as close to the beginning of the week as possible (I ship on Mondays, Tuesdays, Wednesdays & sometimes, on Thursdays) so they will not sit at the post office over the weekend. If you have any questions please feel free to e-mail me, I will be more than happy to answer you!
Fine Print:
I guarantee fresh eggs of the breed auctioned. However, I cannot guarantee hatch-ability due to many variables out of my control after the eggs leave my farm--such as shipping & handling, incubation equipment, and incubation methods.
Patience
Please remember I am not a 24-hour fast food place where you can order and expect service immediately! I am doing this as a hobby and I work as fast and efficiently as the time allows. I do have a 40+ hour per week "real job." I cannot guarantee specific availability dates, as I cannot guarantee the laying rate of each of the many breeds that I have. I will get to each and every person that places an order - in the order the date that I receive that order through the web store.
PAYMENT AND SHIPPING POLICY:
PayPal only please, NO E-CHECKS! Eggs are TIME-SENSITIVE & CANNOT SIT AROUND FOR A WEEK WAITING FOR E-CHECKS TO CLEAR without comprising hatch-ability!
Please READ THIS & UNDERSTAND PRIOR TO BIDDING!
I ONLY SHIP WITHIN THE U.S. SORRY, I CANNOT SHIP TO HAWAII, PR OR ASIA, EITHER!
Payment must be received within 2 days of auction end or item will be re-listed & negative feedback WILL be left!
GOOD LUCK & HAPPY HATCHING!
9
Last edited: