Seriously Downsizing (NOT)
11 Years
I've got lots of hatching eggs to sell for $1 an egg and $12 priority shipping (shipping price may increase if buying over 2 dozen eggs) to anywhere in the continental U.S. and to Alaska!
Apenzeller Spitzhauben originates from Switzerland. They have small wattles and combs, so they don't have so much to get frostbitten. They have a well spread tail, full hackle and fairly hard, tight plumage. On the head is a horn type comb with two small rounded spires and the unique crest points forward like the bonnets on the traditional costume bonnets worn by the ladies in the Appenzellerland region. Spitzhauben actually means pointed bonnet. They are beautiful, curious birds that are a joy to watch. Hens lay a medium/large white egg. I am continually improving my flock by eliminating birds with the "Polish" looking tophats so that my birds are more true to the breed with the forward pointing crests.
Brabanter chickens are very rare, interesting looking crested birds that lay a medium/large egg white egg. They are said to be an ancient breed of chicken and to have originated in the Netherlands or Belgium. Paintings from the 16th and 17th centuries show chickens that resemble the Brabanter. The roosters have a distinctive V shaped comb which resemble horns. I have both cream and gold Brabanters penned together, so chicks will be a mix of both colors.
Silkie Chickens. Picture is of my partridge pen. They all came to me as SQ hatching eggs from all over the country, including Hattrick Silkies bloodline, and I only kept the best birds for breeding. I have a pen of blue/black, a pen of partridge, and a pen of white silkies. I only have 5 hens in each pen, so not a lot of eggs available at a time.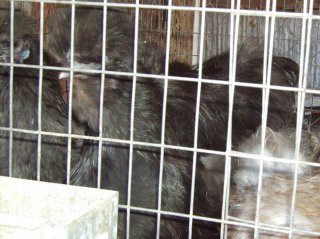 Egyptian Fayoumis are fairly small active chickens that have been raised along the Nile River since times B.C. They are very fast maturing and pullets may start laying a small tinted (off-white) egg by 4 months of age. The cockerels will often be crowing by six weeks of age. Males reach a weight of 4.5 pounds and females reach 3.5. These fowl are similar in plumage pattern to the European Campines. Legs may be willow green or slate blue. The neck is quite long and they have a very high, almost vertical, tail carriage. They are flighty birds, but not aggressive to people and the males are fairly tolerant of other roosters. I only have 5 hens, so not a lot of eggs available at a time.
I also have Welsummer chickens, but haven't taken a picture of them yet. I could sell up to 6-8 eggs at a time on their eggs too.
You can choose a variety pack of eggs too, I have other breeds available on another thread, and also turkey eggs available. Turkey eggs are $4 each, and are Narragansett, Blue Slate, Bourbon Red, and Royal Palm.