Hi All!
I am brand new to chickens, but absolutely loving the journey. In this Thread I hope to document the adventure that is my very first flock, and share the joy of it with others who are Chicken obsessed!
My batch of chickies (as my 2yo calls them) came from
Tractor Supply Company
. My grandfather had died, it was the midst of the covid10 quarantine in Michigan, and I felt hopeless. I had to go there, and when I saw them... I knew. I took them home, and threw together a brooder! BOY was my husband surprised! Being the gentleman that he is, he sighed heavily and then ordered lumber to build a coop in the backyard.
Here is a pic of my initial babies: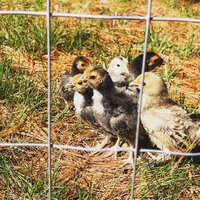 Sadly, three of these sweet beans were victims of predators. Both of my blondes and one of my brunettes. One of the remaining three brunettes turned out to be a Rooster, which is against my local city ordinance to keep. So, he went to my friend's farm.
During this time, I got curious about the construction of an incubator and the hatching process. So, I built an incubator out of a styrofoam cooler, parts from my husband's old computer, a 60-year-old lightbulb from the garage, and a phone charger my husband still doesn't know I took (don't tell him!). 24 days later, I had four happy and healthy little chicks! Sadly, the four eggs closest to my turning lever did not survive - I suspect that there was a cold spot there, as my lever went through the wall of the incubator.
With that history, I now have a Flock of 6 sweet chickies! The teenagers are 16 weeks old, and the babies are 5.5 weeks old. I will post their name before their pictures! I am hoping that the rest are girls, as they are quite friendly and I would be sad to lose any of them.
I have posted pics from hatch (far left) to current. I hope you enjoy them! I do not know any of the breeds, so let me know if you have an guesses

I'll update as I figure the breeds out!
Ruth and Sandra are the only two left from my first flock. They are both a bit hand shy, but have very different personalities. Ruth (Ruthie) is very curious and personable, she will follow me around and hop up onto my lap to hang out. She also loves sunshine, and will do ANYTHING to stretch out in a bright patch of it. In the pictures, she is the one in the front. Sandra (Sandy) is very shy, and will do NOTHING unless Ruthie does it first. As you can see in the pictures, Ruthie is in the front, investigating my phone, while Sandy is hiding in the back.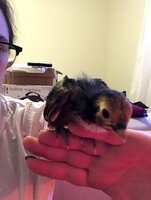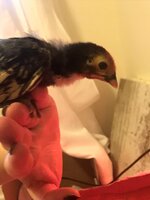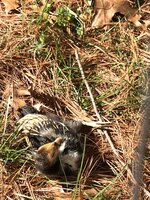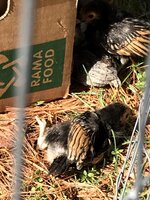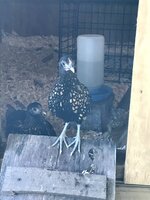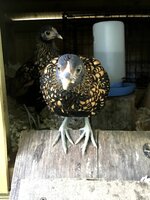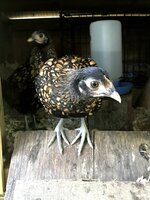 Sonia my first first to hatch, on day 18, and she came from a tiny olive egg. She was the first of my incubator batch to hatch. She has a strong personality and is not afraid of anything. Currently she is the largest of the babies.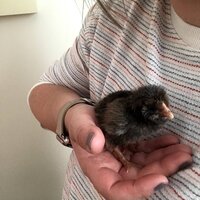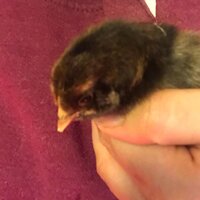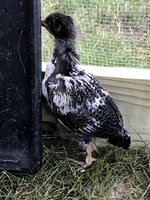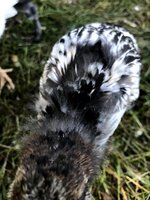 Hillary hatched from a medium tan-speckled egg. She is timid but loves to be held and will come running to me when I enter the run.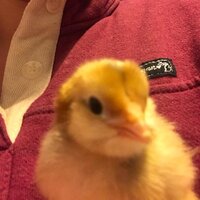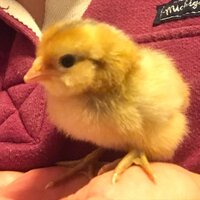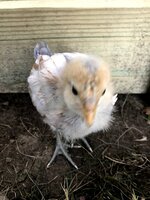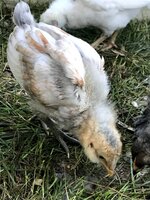 Kagan hatched from a medium white egg. She is the most timid of the group, but is also very passive. She will let me do pretty much whatever I want without complaint.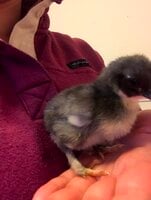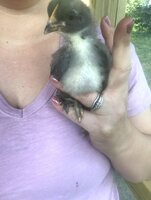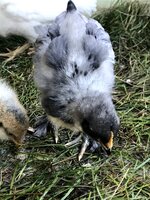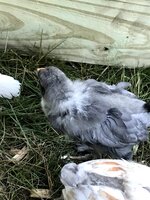 Michelle, came from a large dark brown speckled egg. She has a strong personality, and will be the first to try anything. The rest of the babies follow her lead.