Ealier this summer I was sold 10 blue orphingtons. My sister-in-law went with me and she took 4 of them and I took the other 6. Their colors as babies seemed the right color. My six got eaten by fox and coons and long story short, that problem has been almost eliminated (the coons have been taken care of and the fox doesn't like our lab so stays out of the yard). My sister-in-law could not keep a rooster (husband said so) so I got the rooster and a hen. Here are their pictures: Is he a splash and her a blue? Or did the guy mix buff orphingtons in with them.
Rooster: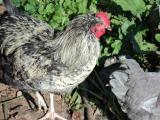 Hen:
The rooster has yellowish/pinkish legs and feet while the hen has slate. Is that normal?
Thank you for the help!