Dec 12, 2018
1,243
2,781
261
My Coop
I have been hanging around this site for about 6 months; have researched, asked questions and posted a few answers. I am a complete novice when it comes to chickens, quite experienced with building various structures. I live alone in a country setting on a lake and decided to get chickens both for the eggs and also to add another interest to my life.
I decided early on that I would build a Woods KD 10' by 16' coop. Coincident with this decision I was forced to begin the construction of a new open sided pole shed (my 30 year old 12' by 12' original has deteriorated with both front poles rotting at ground level) that I decided would be 12' by 36' in size built in 3 12' by 12' sections with a roof overhanging the poles by 2' all around. One of these sections will form the run that will be attached to the new coop. The shaded part below is the new pole shed, the coop will sit outside and adjacent.

I will elevate the coop at least 2' off the ground, this will give me 144 square feet in the run proper as well as 160 square feet under the coop. The run will have 1/2" 19 gauge HC for the walls, around the elevated open section under the coop and for aprons around the whole lot. I will use DLM in the run proper only leaving the section under the coop open to the gravel/sand base that is under the pole shed/coop.
I have access to free used hydro poles and will use eight of these buried 4' into the ground as the base structure for the shed. I installed these last fall.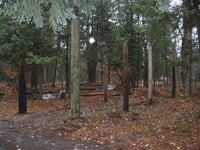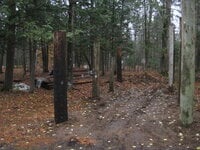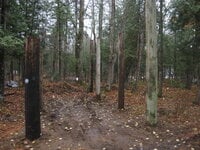 Last edited: