Hello,
I am at the moment planing my first chicken coop.
I am planning on using an old insulated reefer trailer (approx 7m x 2,4m ~22' x 7').
I am also planning on putting in a wall so I have a storage area.
I plan to make the pvc-tube feeder refillable from the storage compartment so I do not have to enter the chicken coop itself.
Unfortunately I cannot use the wall between coop and storage unit itself.
Now my questions are:
At what angle can I put the PVC-tube with the feed still trickling down?
And what size tube to use?
To illustrate what I mean:
general layout: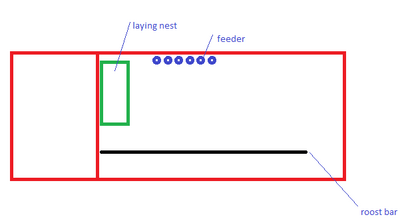 Feeder Idea: