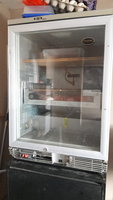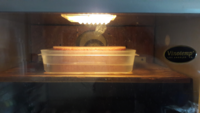 View attachment 1296710
hi i made a home made incubator made out off old wine cooler.i based it off a sportsman incubator fan, heat , and water on top shelf. i have a double wall in the back .the air i believe is coming from the false back and into the fan that then passed along the heat element and across the water supply. i place the thermometer on the tray were the eggs should hatch ( don't know if that's the correct place to put the thermometer) .
i been having horrible hatch rate, i candle the eggs at 7 days and 15 days all are fertile and growing , on day 18 i remove from incubator and place on hatcher , i set eggs on the 22 of Feb and on day 18 witch was March 12 i set them on the hatcher, same temp i only increased humidity, its now day 14 and only got 7 eggs to hatch and i place 22 eggs in the hatcher .
could it be that my thermomether is not showing correct temp.
any help thank you . i have the following items on the incubator
Last edited: