Chick hatched June 4th. I have a barred rock rooster and I suspect his mama would be one of our buff brahmas based on the feathered legs.
First pic taken July 1, based on comb color I figured boy.
At 2 months of age, pic taken Aug 7th the comb hadn't really changed much, so I thought maybe not a boy.
Yesterday I noticed what I think is saddle feathers, so now I'm thinking boy again. Almost 14 weeks old.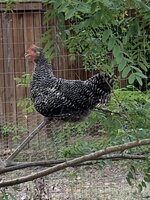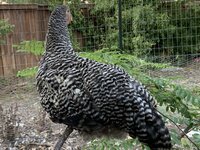 And just for fun, BB, another one of our backyard mixes that I'm sure is a BRxBrahma mix, but with the Brahma style comb. He was born in February, and we were certain he was a cockerel by the time he was 10 weeks old. I love how gorgeous he is.