** To update, almost everyone thinks this is a girl - so I have gone ahead and named the chicken Sam -- short for Samantha. **
Hi All, it's now 13.5 weeks old and STILL unclear to me whether this barred rock chick is a boy or a girl. So far, no crowing that I have heard.
Any further opinions based on the latest pic? The last round of opinions (many) were about evenly split.
Here's the latest photo (13 weeks). Note the comb has continued to develop compared to 8 weeks below, but at a slower pace, and wattles have not developed much. Body type? The tail is more upright than my other BR.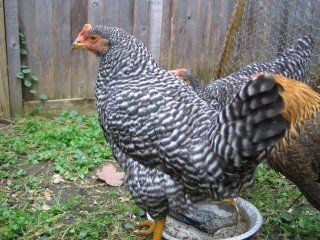 And the ones previously posted (8 weeks):
And at 3 weeks, the chick closer to the waterer.
Last edited: