I think these guys are all at an age now where it should be a little more obvious - or so I'm hoping!
They are Porcelain d'Uccle x Mottled d'Uccle/Japanese Bantam (mum is a cross!)
I've never had to sex Frizzles before so...I have no idea where to start.
All have the same parents - we just hatched them beneath different broody hens.
Also, if anybody knows what colour the grey-ish birds are, I'd love to know!
We expected Mottled or Mille Fleur based on all the 'genetic calculators' out there but they don't seem to be Milles.
b'Uckleigh
9 weeks old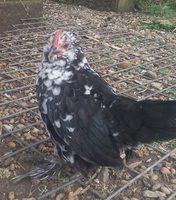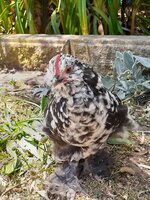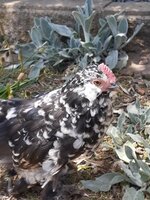 Cockerel? Bucky got the comb early on, but it hasn't grown in weeks and I can't spot any 'pointed' feathers anywhere yet.
These guys are around ~7 weeks old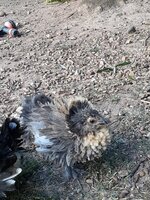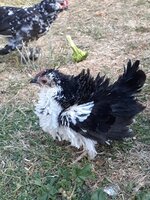 Pullet and cockerel?
These are ~5 weeks old
Possibly too young but guesses welcome!