[IMG]emojione/assets/png/2665.png?v=2.2.7[/IMG]Mrs
11 Years
Please read entirely before deciding to purchase. Please ask any questions you may have before deciding to purchase
My Miss Priss hatched several Muscovy ducklings last week. We have 6 black and white babies looking for new homes.
I do not wish to ship - not until I do a little more research into shipping live animals. So these are for pickup, but I'd also be willing to arrange to meet within reasonable distance to deliver the ducklings.
Of course, if someone was serious about wanting them, we could always see if we could tap into the BYC Egg Train for duckling delivery!

Mama Miss Priss, doing her best to protect her babies from my evil camera.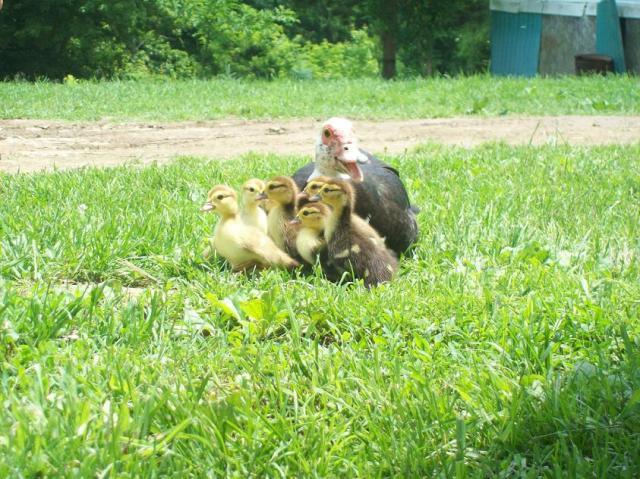 I have more babies due to hatch in a week or so, and I'm expecting there to possibly be some blue/silvers in the next hatch. May also possibly have red and whites and of course, I fully expect black and whites.
We are just a small, fulltime farm, and this is what we do for our living. We're all natural and chemical free. We cull anything that shows deformity or if we suspect they might be ill. All of our animals are raised around children, dogs, cats, cattle, and goats. We try to keep all animals friendly to people (except the guard dog).
I do NOT give tours of the poultry pens. We are NPIP and AI monitored. While I do allow farm pickup, customers are asked to stay near to the house or drive area - DO NOT ASK TO TOUR THE POULTRY PENS as the answer will be No. I have nothing to hide, I just do NOT want to put my birds at risk, or nullify my NPIP status.
Note: I have had people tell me they will show up to our farm to purchase goslings, chicks, etc on a certain date, and then they never show. Please
DO NOT
say you'll be here and
NOT
show without somehow contacting us.
We do NOT mind if you cancel
and say you can't come. We
DO
mind not hearing anything, and then we wasted an entire day waiting for someone who's not going to show.
Due to no shows, I no longer hold anything for anyone without a deposit in advance. IF you are serious about wanting something, but cannot make it the day we've arranged, then please contact us and arrange for a different day. Your deposit will come off your purchase. If we don't hear from you, and you don't show, we will then assume you are no longer interested in what we have to offer and your forfeit your deposit and we'll move on to the next interested party.
Not trying to be mean, or rude, but this is our sole income and we depend on farm sales to survive. I cannot hold things forever.
Thank you! and please feel free to ask any questions.