A chicken will always remember the egg
Project Manager
Premium Feather Member
11 Years
Mar 31, 2011
72,131
215,739
2,032
My Coop
Brinsea's Cutest Baby Fowl Photo Contest!
10th Annual 2019 New Years Day-a-long!
We are looking for the cutest baby Fowl out there!
2014 winner mrschofield​
A Panel of Judges will determine the winner!
The Prize:
Eco Glow Brooder
The winner is:
@MillersFarm
Congratulations!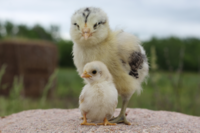 Contest Rules:

Entries welcome for all types of Domestic fowl – chickens, ducks, peafowl, geese, quail, etc.
Absolutely No fake editing
Open to all BYC members in the U.S. and Canada (if the winner is from Canada, you might need to pay shipping)
Must be your picture, taken in the last year
Baby fowl must be less than one month old
Maximum of 2 entries per member
Cannot use a photo that has been posted in prior contests
Must be 18 years or older to enter
Deadline for entry is January 4th, 2019 at midnight PST
To submit your entry, simply post it in this thread.
If you have not joined in the New Year's Day Hatch-a-long, join us here:
https://www.backyardchickens.com/threads/10th-annual-2019-new-years-day-hatch-along.1281771/
Last edited: