Hi All,
I went to let my ducks out of the garage this morning and discovered my favorite one looking... Rough. Feathers plucked, won't get out of her nest.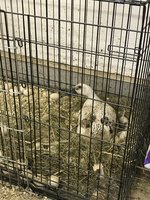 When I get close she opens her mouth (as seen in the second photo) and makes the smallest little hiss noise.
Ducks recently wormed with safeguard about a month ago, eating Mazuri maintenance and breeder. This girl fell in the pond over the weekend (freezing water), we got her out right away and warmed her up. All seemed fine until today.
Hopefully I'm congratulating the proud momma and not rushing her to the vet. What's your thoughts?