My duck has some pretty nasty looking bumblefoot going on. I am 3 days into treating it with cephelexin. It looks like the biggest is getting bigger. I don't really want to cut into it. I've tried soaking it but she doesn't tolerate it well. How long should I give the cephelixin.
Do I need to cut it out?
Right Foot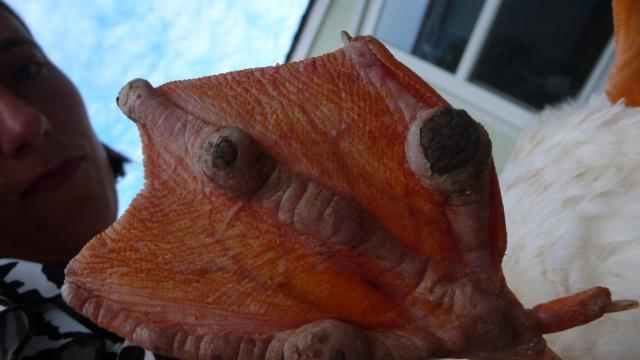 Left Foot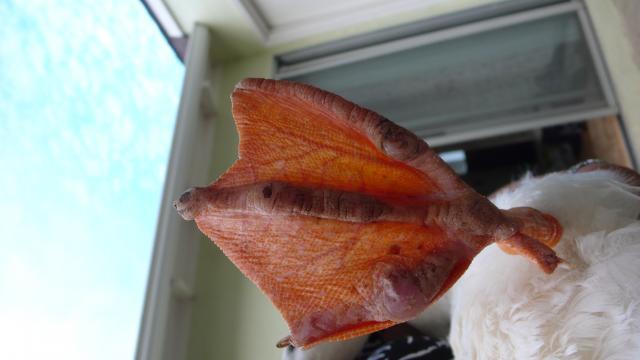 barnie
We have the same problem again with this duck. She isn't limping but she has the scabs and some swelling and it was bleeding a bit. She is eating, drinking, and running just fine. It doesn't seem to hurt her when I touch the area. We were able to fix it before with cephelexin and soaking/neosporin.
I'm thinking it wasn't cured all the way. This duck is huge and very strong. We tried to get a closer look at it last night and there is no way this duck will be still enough for surgery. Between the two of us and some towels we couldn't get her to stop kicking us. I have scratches all over from her toes. Her heart was beating so hard I could hear it so we let her swim for a while in the clean bath tub and put her to bed. This is a lap duck who likes to be held and cuddled and this was just too much for her. And me.
Has anyone had success with Tricide-Neo powder with a bad case. I put an order in to Koi Acres so it should be here in a few days. A vet simply isn't in the budget. It breaks my heart to say that because I love this duck so much.
Also, a need some very large duck shoes.
We will begin the cephelexin again tonight.
Last edited: