Feb 27, 2008
8,650
114
303
PLEASE DO NOT USE THE BUY IT NOW OPTION - PM me to place your order. I can do egg orders from 3+ to 24+ at the following prices with Priority Shipping included:
3+ eggs = $3 plus actual shipping (You'll get 4 eggs)
6+ eggs = $14.00 (You'll get 8 eggs)
12+ eggs = $20.00 (You'll get 15 eggs)
24+ eggs = $35.00 (You'll get 30 eggs)
I have eggs available as soon as the first week of July, but you are welcome to place a pre-order. All eggs are collected several times daily, not washed or refrigerated.
UPDATE: I'm sold out until the first week of July.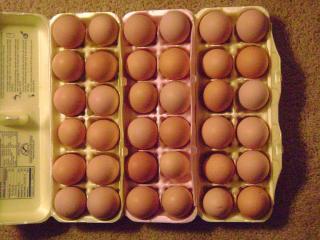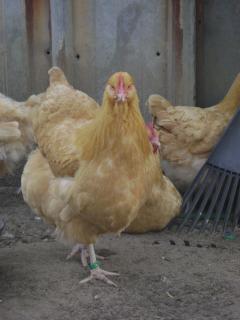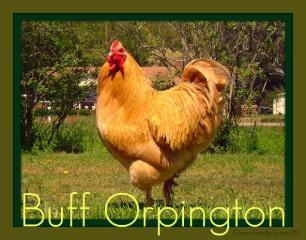 PAYMENT: We accept all forms of Paypal payment and USPS Money Orders. If you would like your phone number placed on the box for post office pickup, please include it when you send payment. Our paypal address is
[email protected]
. In the message box, mention what you are paying for and include your BYC member ID.
TERMS: This auction is a final sale. Please understand that hatching eggs involves some risks and chance, so please refrain from bidding if you are not willing to accept the risks. We package the eggs to be best of our ability, but breakages do occur in cases of mishandling by the postal service.
SHIPPING: I will ship your eggs via USPS Priority Mail with DC or Express Mail by request (for an additional charge). Please let me know if you would like shipping insurance for an additional $1.70.
OUR GUARANTEE: Yes, we offer a guarantee on our eggs! If, for whatever reason, half of the eggs are broken when you get them, we will replace the eggs for the shipping cost. If at least half of the eggs are broken during shipping, you must get a postal worker to sign a letter stating so. This guarantee does not include the replacement eggs that are lost, stolen, or returned to me.
It also does not guarantee that you will win at shows with these birds. There are a lot of factors that influence the chances of winning at shows, including nutrition, condition of birds, and the size of the shows. If you have any questions about our guarantee about what is covered and what is not, please ask before you bid!
IMPORTANT DISCLAIMER:
We are NOT a commercial farm. We are just simple country folk who love chickens! We have a limited number of eggs that we will be offering for auction. We do selectively breed for traits according to the APA Standard of Perfection. Although not all of our poultry is "perfect" we still strive for the best. We cannot guarantee that you will get show-quality birds, but they have the genetics to produce show potential offspring.
Thank you for looking at our auction! If you have any questions or concerns, please feel free to ask before bidding!
Green Family Farms
Bladenboro, NC 28320
North Carolina Licensed Hatching Egg & Poultry Dealer
American Poultry Association Member
All photographs and other content included in this auction is property of Green Family Farms. No part may be used without permission. Copyright 2010.
Last edited: