I've been putting my 3 week old chicks out in this enclosure every day for the entire day -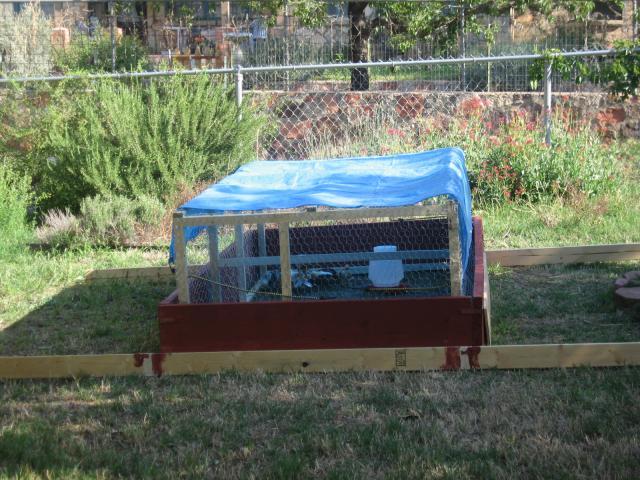 It's basically a 4' x 8' portable run made of 2" x 2" lumber and chicken wire, topped with a blue tarp, sitting in a raised bed frame.
I spent the whole afternoon today working in the next town over, above 30 miles away. As I was rolling back into my town I was talking on the phone with a friend of mine and she was relating the tremendous storm we'd had. I was stunned by what I was seeing as I drove through town. One business I passed had its roof blown off!
When I got to my house and went out into the yard I was sure I'd be greeted by the sight of nine dead baby chicks and was feeling pretty down. I got out there, stooped down and what did I see but nine happy, peeping, DRY chicks busily scratching in the wet ground! There's a high perch in this enclosure and a large branch (not in the pic) that sticks up almost to the top. I think they must have gotten up high and been completely protected by the tarp! Good, smart chickies!
I was so relieved!! I gathered them all up and brought them in. I don't think they were happy to be rounded up but it started raining again and has been raining ever since. What a day!