I have a six week old chick who is sneezing continuously, and this morning I saw blood stuck to her nostril. The others are going through the pecking order stage, but she's already the lowest and they're just ignoring her. She's always kind of been the runt/slow grower of the hatch.
1) What type of bird , age and weight. Delaware, six weeks, a tad smaller than the rest. Exact age unsure of.
2) What is the behavior, exactly. Sneezing constantly, otherwise acting normal.
3) How long has the bird been exhibiting symptoms? Since last night
4) Are other birds exhibiting the same symptoms? no
5) Is there any bleeding, injury, broken bones or other sign of trauma. blood stuck to her nostril, that's all.
6) What happened, if anything that you know of, that may have caused the situation. I'm unsure.
7) What has the bird been eating and drinking, if at all. yes, very hungry and drinking very well.
8) How does the poop look? Normal? Bloody? Runny? etc. Normal, runny at times.
9) What has been the treatment you have administered so far? Moved her to a separate brooder with feed and water.
10 ) What is your intent as far as treatment? For example, do you want to treat completely yourself, or do you need help in stabilizing the bird til you can get to a vet? Treat myself
11) If you have a picture of the wound or condition, please post it. It may help. One second...
12) Describe the housing/bedding in use. Pine shavings, kept very clean.
Pictures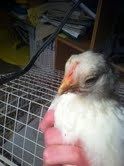 This is where she was being housed before. Food, bedding, and water all very clean.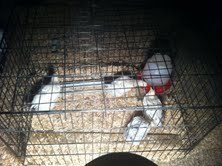 Drinking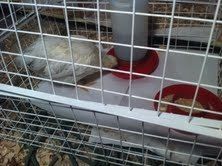 Thank you.
Nick