Hello All,
I never thought this would happen to me. I minding my own business and heard a tapping on our back door. I asked my wife what is was and she shrieked there is a turkey at the back door. Here is our turkey that showed up.
After some serious pointing and laughing i went out and thought hmmmm.... Now what. I like the idea of having a pet chicken, my son absolutely loves it. He is laughing nonstop at the chicken.
We went to the feed store and got some poultry food. We have been locking the chicken up at night in a dog crate. I am so new to this. I have the yard space and my 3 year old son is more then happy about the new pet. My wife agreed that we could get some more.
I do have a few questions.
I have identified with limited knowledge an Indian Game hen. Is this correct?
I live in the city in San Bernardino, CA there are some predators near her, a few hawks, a possom, some skunks and a few cats. Do i really need to lock her up at night?
She trys getting into our house with us for an hour or so at night. WTH?!?! lol
I would like to stick with 6 chickens. I don't need alot of security as there aren't many predators. Which Coop design would best? I am pretty handy with wood and a screw gun. Temps get to low 30 a few times in the winter and 110 in summer.
Here she is with the dog. The dog is beside herself at what this this is running around the yard.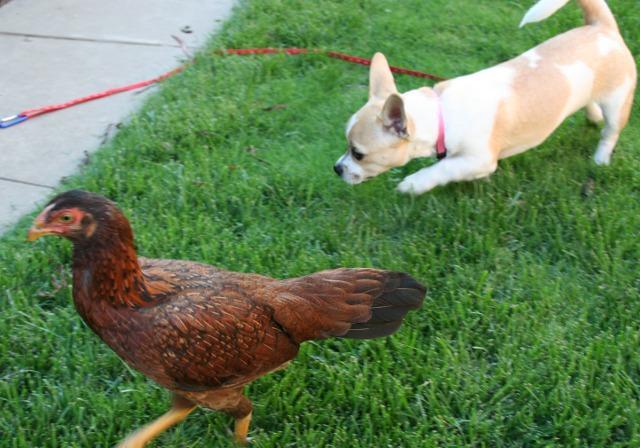 Thanks for allowing me into such a knowledgeable community.