hello chicken peeps!
okay, so i need some chicken psyche insight. we got our two first chickens--2 precious silkie hens, pearl and ninja!--exactly 1 week ago today. their original mistress, who had rescued pearl from a bad living situation when she was a very young pullet and raised ninja from the day she hatched, had to give them up because she is moving someplace where she can't take 'em. we just set up our supersweet coop and run, and were ready to take on our first birds, so it all made sense. she brought them over last sunday, and they seemed thrilled in their new digs and big run and everything. for the first few days we kept them cooped up for most of the day, then let them out a bit in the late afternoon, and put would put them back up in the coop at dusk.
the middle third of the coop floor opens as a ramp that goes down in to the run, and then lifts up drawbridge style to close at night. both pearl and ninja have gone down the ramp, but they haven't really gotten up it so far, and we are thinking of a redesign that would make it easier for them to navigate. here are some pictures to illustrate the situation: (pics were taken pre-hay, there is plenty of hay in there now!)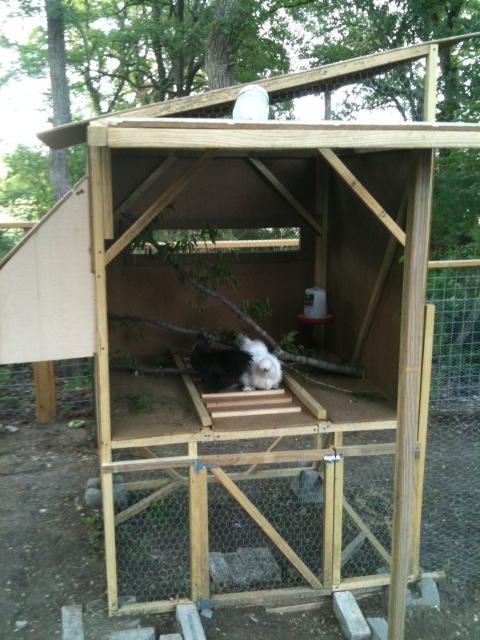 anyway, problem is, the girls aren't coming down into the run anymore as of yesterday! earlier in the week, when we'd open the ramp, they would flutter on out. but it rained a couple of days ago and got super muddy in the coop, so we kept them cooped up for about a day and a half until things dried up. but now it's lovely weather for them, and they just aren't coming out!
they were both laying before, but our chicken benefactor said that they might take a week at least to start laying again. and here is the psychology part: these ladies went from being in-door, chicken diaper, very spoiled condo pet chickens, to a little cage in the backyard of chicken benefactor's parents, to our outdoor coop and run. so there has definitely been a lot of transition for them. where they seemed really happy to check things out and explore earlier in the week, they both seem kind of...well, depressed? now. they are eating and pooping fine, but they seem to have lost all desire to go out in the run after having been cooped up most of thursday and friday. they are so adorable, and i want them to be happy!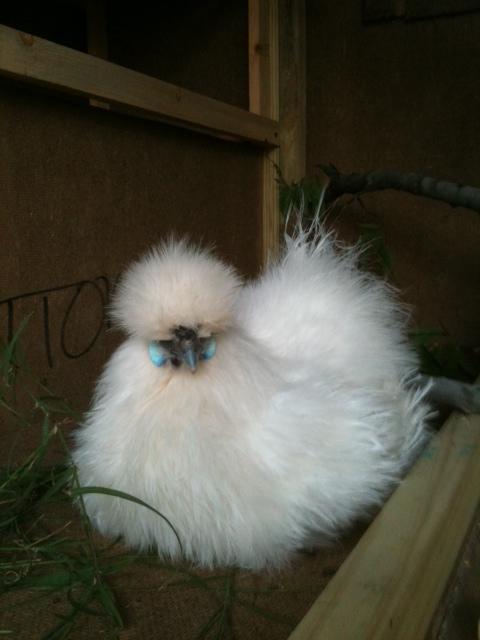 anyone have any experience with chicken situational depression? is there anything i can do? could it be that what i'm perceiving of as depression is just them getting ready to be egg-layers again? *hopeful dance* anyway, any insight would be helpful. THANK YOU!