Mother of Chickens
14 Years
For the past three winters, I've used heavyweight clear vinyl shower-curtain-liners on all four sides of my run. The run is heavy gauge welded wire mesh installed on all four sides and the ceiling of a 9x15 foot wood frame. Vertical studs every three feet. The shower-curtain-liners keep out the wind and the rain and help to keep the winter temperatures tolerable as there is no wind-chill factor. It's a bit tedious removing them every Spring and reinstalling them every Winter. Each curtain is installed with many screws and washers fastening it to the wood studs.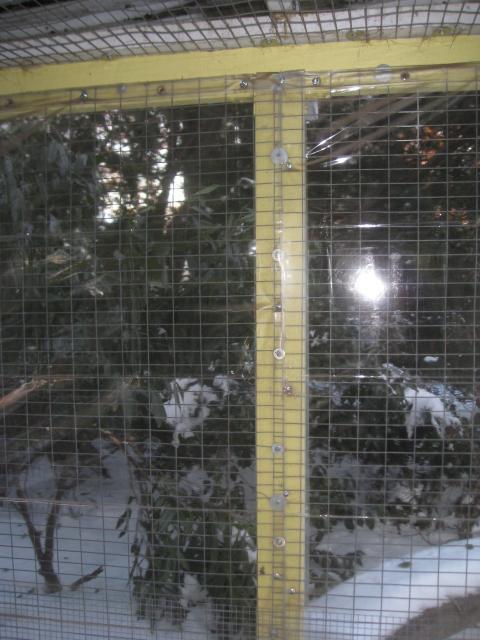 So now, I'm looking into buying heavyweight clear plastic rollup shades that will remain in place, and I'll just pull the cord and roll them up out of the way in summer heat and then roll them down for the cold months. Do any of you use such rollup shades and know of a good source? I've been surfing the web looking, and found several. Have no idea as to cost.
Here's the kind I found:
http://www.enclosureguy.com/residen...e?tmpl=component&print=1&layout=default&page=
The plastic needs to be clear to allow maximum daylight in the run, and also need to be tight and secure to prevent wind and rain from getting through.
P.S. No worries about ventilation; the ceiling is completely open to the air. There's clear corrugated roof paneling over the whole run to keep the rain from getting in from above, but the panels are raised up off the wire ceiling. So even when the curtains are in place, there is never any condensation.
Curtains off:
Curtains on:
The shower-curtain-liners I've been using are about 7 dollars each at Bed,Bath & Beyond. Each one is 6 feet x 6 feet, so 8 liners cover all four sides of the run, so $56 is the total.
Anyone using clear rollups for anything (greenhouse, patio windbreak, etc.)? Can you tell me where you got them and any idea about costs?