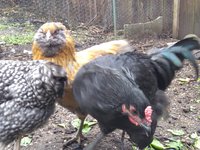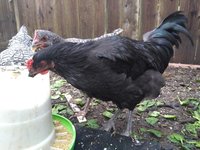 Hi community. I've read lots of posts and learned a lot from all of you, so thank you. Unfortunately my first contribution is to ask for help rehoming this young rooster.
I hatched a straight run of eggs and had a place lined up for the ones that were cockerels, earlier, but I didn't know enough to know that this one, with three rows on his comb was also a boy. Behavior is very mild and feathers didn't come in until a couple weeks ago (he's almost 4 months now). MIssed my chance to place him in the same home.
Parents were a Cuckoo Maran Roo and easter egger hen. Hatched from a light blue egg.
Anyway, I'm in the San Jose, CA area. If anyone would like him I can drive it out to you within about an hour drive, or if you know of a farm in the area I can contact where I can relocate this one, I would very grateful.
Cheers,
Timo