Chicken Poop Pics - Three separate days and taken in the morning after sleeping...these are the worst of the days (from the 7th, 15th, 16th).
One of my hens (not even a year old yet) has been having diarrhea (very watery, green, sometimes really mucous-y but no blood and no yolky looking stuff) for quite some time now. It started on the fifth of September. On the seventh, we isolated her as she was now starting to act sick (tail down, feathers fluffed). We noticed some mold spots forming in their water and thought that might be it. Cleaned the water container, sanitized, refilled. It is a new waterer so we now know to keep a closer eye on it. We would bring her to the vet, but there are literally only three bird vets in my state. One is an hour away, one isn't accepting new patients, so we're left with the last vet and they mostly do parrots.
We gave her a spa day in some epsom salt thinking maybe she was egg bound since she hadn't laid and noticed all of her chest/stomach feathers were missing...odd but maybe an early early molt? Or early signs of Broodiness?
After a two days in isolation, she seemed better though she still hadn't laid and egg and still had diarrhea, but she was walking around, scratching, screaming to be let out, etc. We brought her back out with her sisters so she could eat and hang out with them.
Diarrhea continued, but she still seemed fine. Running over for snacks, showing bottom hen who's boss, scratching around in leaves looking for bugs, that kind of thing. Seemed to be eating alright...they're all not really big fans of their feed and we're waiting for new feed to come in to try.
I started giving all four VetRX at night for a potential light deworming and also sprinkled DE around the coop in case it was mites or lice. She still seemed fine, but still had diarrhea. This week I've noticed her feathers are falling out. They're all over the coop and today she now has her tail down, seems to be standing away from the group and I can't be too sure, but I think her comb might be a little purple-y at the tips.
Our ideas were worms, salmonella, or something from the mold in the water. The other hens are fine. We're kinda at a loss...any suggestions?
7th>
15th>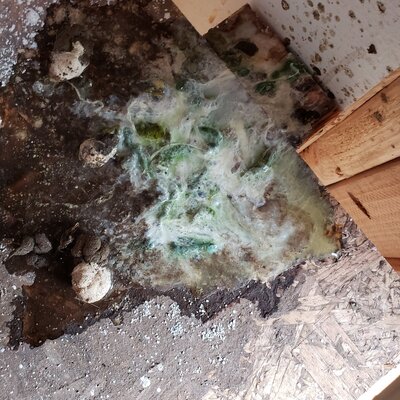 16th>