Sorry. I had to take drastic measures in the subject line. I got no responds to my original post subject. So here is my question.
My girls love when I go out and feed them a hand full of BOSS. I do this about once a day. They prefer eating it out of my hand (Crazy Dames).
My question is: BOSS is a great heat generator. The temp. here is still in the upper 89's to mid. 90's. Is it too warm for them to be eating a lot of the BOSS right now and/or should I wait until it starts to cool off a little? Maybe in Nov or Dec.
Any thoughts will be greatly appreciated.
I have 1EE, 2SLW, 2 RIR, 1Red Star and 1 Bantam Splash Silkies. They are all 11 weeks old. They also Free Range everyday, usually for about six hours.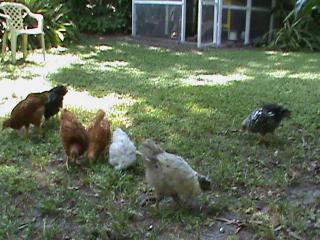 Last edited: