Feb 27, 2008
8,650
119
303

Dirty Chick Homemade Goat's Milk Kid's Soaps, 2 ounce bars in fun, assorted animal shapes!

Only $1.75 each plus actual shipping
These are practical soaps with just enough flare to make them a little on the fun side. These are also smaller than our "adult" soaps to make them more kid hand-friendly. We use quality ingredients including palm oils, coconut oils, glycerin, sodium hydroxide (lye), uncut fragrance oils & essential oils and of course goat's milk. Our Oatmeal bar contains extra Vitamin E to make it super moisturizing and good for your skin. These are so much better for your skin than commercial soaps, which contain loads of chemicals. Recommended for kids age 3 and above.
Available Kids Scents
It's A Grape Day - A purple animal shaped soap with the fragrance of mouthwatering grapes.
Wacky Watermelon - A reddish-pink animal shaped soap with the fragrance of juicy watermelon.
Monkey Fart - A yellow animal shaped soap with the blended tropical fragrances of banana, grapefruit, strawberries, and kiwi.
Bunny Burps - A white animal shaped soap with the fragrances of flowers and a touch of mint.
Blueberry Blast - A blue animal shaped soap with the fragrance of big, blue berries.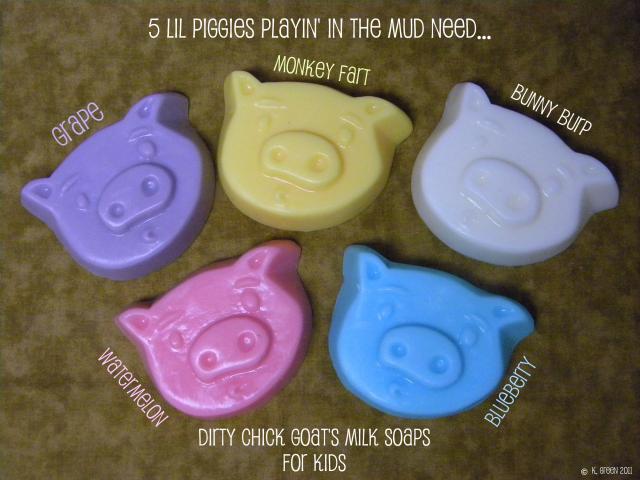 Animal shapes you could get are: Mouse, Cat, Monkey, Pig, Chicken, Dog, Rabbit, and Cow. It may be possible for you to request a certain animal shape in a certain fragrance. Pictures are examples of what the animals look like - the exact color of the animal will depend on the fragrance you purchase and the particular batch of soap. More animal shapes will be available soon.
PAYMENT:
I accept PayPal and USPS Money Orders. Our paypal payment address is
[email protected]
. Please mention your BYC name and which scent(s) you would like in the message box.
SHIPPING:
The shipping quote is for a flat rate Priority box, which is a good option if you want up to 8 kid sized bars. Please PM me to double check shipping to your zipcode. Sometimes we can ship another way to save you money on shipping.
Order via BYC PM or through our website:
http://greenfamilyfarms.webs.com
.