Hi all,
So after getting my two first Orphington hens, I was always planning to round off with two more australorps. However, my first attempt at building my own coop has ended up with a few flaws.
- too little vertical space to allow chickens to easily access the roost, which I think is the main culprit for them not roosting
- too little ground space in general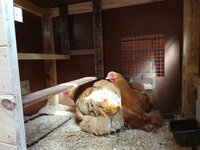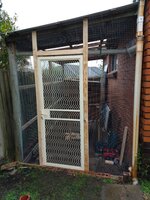 So I thinking of modifying my coop before I get my two extra chickens. I think I have a good sized chicken run (roughly 2.5 x 5.7m covered space) and I built the protection from scratch. It's a 1mm gauge 25mm square wire mesh that I fixed with screws and washers internally on timber frames. The ground perimeter is actually lined with bricks along the side and I've buried mesh along the bottom at the back to prevent burrowing. I am reasonably confident that it's protected well (my main predator in the area are foxes).
My initially idea was to block off the back section and turn it into a walk in coop. This will give great use of the vertical space, while giving the chickens substantial ground floor to chill if I ever need to shut them in, shown in Option 1.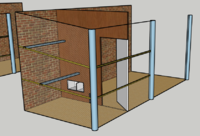 That all being said, do I actually need an enclosed coop, if I'm satisfied that my run is secure? Looking at it, I'm thinking all I need to really do is create a partition to achieve the roosting bars and nesting box as shown in Option 2, which would save on materials and also mean my chickens don't have to be let in and out everyday (except when I want to free range outside). So basically my run is then turned into a big open coop I guess. Has anyone ever heard of this as a suitable arrangement?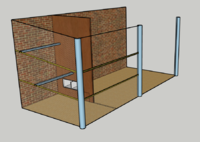 Keen to get some input before I get started.