As per BYC's worst predator survey, dogs are one of the most serious predators of chickens. We see posts on this topic almost daily. Most responses run towards the SSS (shoot, shovel and shut up) solution, with sentiments leaning towards killing the dogs. I can appreciate the sentiment, but my problem with that is it generally happens after the fact. My preference is to get ahead of the issue and do things to avoid the need to whack my neighbors dog in the first place. BTW, this is not a new issue. The phrase "a dog is a man's best friend" was coined during a civil case revolving around the shooting of a neighbor's dog. The case of "Old Drum". Circa 1869.
https://www.sos.mo.gov/archives/education/olddrum/StoryofBurdenvHornsby
I might be BYC's biggest advocate of using electric fences. My experience with them goes back decades, but only recently have I adapted them to use for protecting my birds. In my experience, they work and work well. My neighbor's dog made a play for the birds early on, hit the fence, let out a yelp and has never been back. That is my solution to dealing with the neighbor's dogs. No shooting, no shoveling and no shouting. Quite, peaceful enjoyment......and all my birds are still alive.
So here is how I did it. A four wire fence, bottom wire 5 inches or so off the deck. Remaining wires staggered about 5 inches or so off the deck. Top wire no more than 20 inches or so high. Most adults can simply step over it.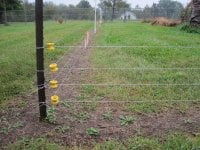 Dogs (and other predators like foxes and coyotes) encounter this and try to crawl under or through it and get themselves zapped in the process. As in serious, high voltage pain. 7,000 volts plus. That will deter almost any of them.
Reaction is like this:
There are many variations on this theme, from using wire or the white poly tape fence or rope.....or electric poultry netting. I have found my wire to be easiest to maintain, but all will work.
Again, my experience is this is a safe and effective way to open up yard space to allow the birds freedom to roam about, yet lift the burden and worry of the predator threat. I've lost track of the number of dogs I've seen running loose in the yard, yet to date, I've never lost any birds to them. I chalk up nearly 100% of that success to the fence shown above.
What I would like to see with this thread is testimonials from other growers. Those using also using fences to protect your birds. How you have them setup (pictures please!), and success or failures using them.