Hi!
I'm new to this community but have been using the forum in the past for the excellent advice it gives.
I have a Swedish Blue duck about 8 weeks old who tripped while running and broke it's leg. It's broken in the Tibiotarsus right under the knee.
We went to an emergency animal hospital last night. They did x-rays and tried to set it, but none of the splints would hold because she would wiggle it off or remove it. After a long brain storming session with the doctor, my husband and I are currently trying to build a 3d printed cast/splint that will also wrap around her body. We made her a wheel chair but that isn't for her to be in all the time. Attaching photos below.
We alternate between her floating in the tub to rest the foot and laying in the cage as well.
She is inside our house in a dog crate right next to her sister (a Cayuga she was raised she with) who is in a play pen next to her.
Our worry is if the bone doesn't set. Has anyone dealt with ducks and broken legs? The vet said if it doesn't set then we need to amputate. She makes it seem that there is a low chance of her leg getting better without surgery, which is around $2000! Did your duck's leg heal? How do they heal in the wild or on the farm without all this medical help?
Last option would be amputating if nothing works, but I worry about where the break is that a prosthetic wouldn't work.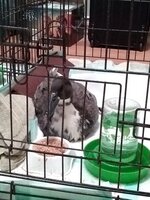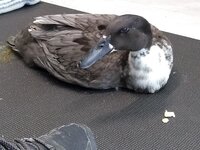 Any advice, experience or stories about this would be so helpful.