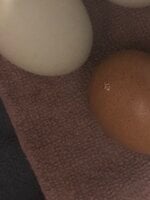 We have our first pip! About four hours ago our first chick made the first break for life outside the shell! I can hear peeping and the temp and humidity are solid. Little bit of a nervous, first-time chick mom. (Lol) Watching everything close!
(Originally posted thinking we had an "early" pip, but turned out to be a piece of debris, and I'm relieved because it would have been before the incubator was ready for hatch)
I'll update over the next few days, as there's not much going on right now. -besides three very excited kiddos!
Last edited: