GOALS:
-I want to build a Tractor/coop hybrid. I like the hoop/cattle panel design I see all over this site.
-I want to be able to move it by myself, but I have assistance if need be.
-I currently have 12 young chickens, planning on paring it down to 7 laying hens and 1 roo.
PROBLEMS:
-Incorporating a coop into the run that's large enough for the chickens, if necessary.
-Predator protection-planning on running a hot wire around the bottom, as I imagine having any sort of wire edging would be difficult in a moving coop, plus I have kids, and I'd worry about the sharp edges on the ground. We have 3 dogs, all of whom respect the heck out of a hot wire.

I live in Delaware, with summers that can get pretty muggy and warm. Winters usually only dip as low as 20's, with occasional cold snaps of the single digits. Do they need an enclosed coop, or would a good roof and tarp wrap in the winter do ok, with a heat lamp or three to supplement? I see these sorts of tractors on here, but I am unsure of their climate, and if that is their only housing.
It is very important to me to have a tractor, to help cut down on ticks, and to fertilize the yard in spurts, without killing the grass.
QUESTIONS:
Do I need an enclosed coop?
Is 16'x5' large enough for 8 chickens, with adequate roosting space?
Is a coop that size going to be too hard to move?
Anyone want to come help me build it?

The DREAM: A coop plus run, but I would need a coop that is 6' long, by 5' wide to sustain 8 chickens. That amount of lumber seems outside my price range right now.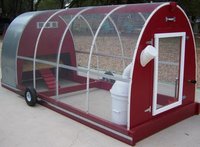 This tractor doesn't have a coop, just roosting space. I would obviously need nesting boxes, also.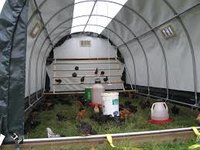 I envision a mobile version of this run, but light enough to move! I also wish more folks would post actual dimensions and materials, as it would be much easier to plan! LOL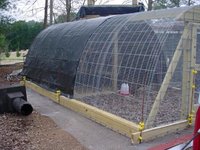 Thank you ahead of time for any and all advice to this newbie!