Apr 14, 2011
1,179
226
236
Our 26 Freedom Ranger chicks shipped from PA on Wednesday, 4/4 - we received them (finally!) today, Saturday 4/7 on the first truck into the Post Office. They are all healthy, cheeping, peeping chicks. This post is to document their lives and what we've done so others (like me!) can read and learn.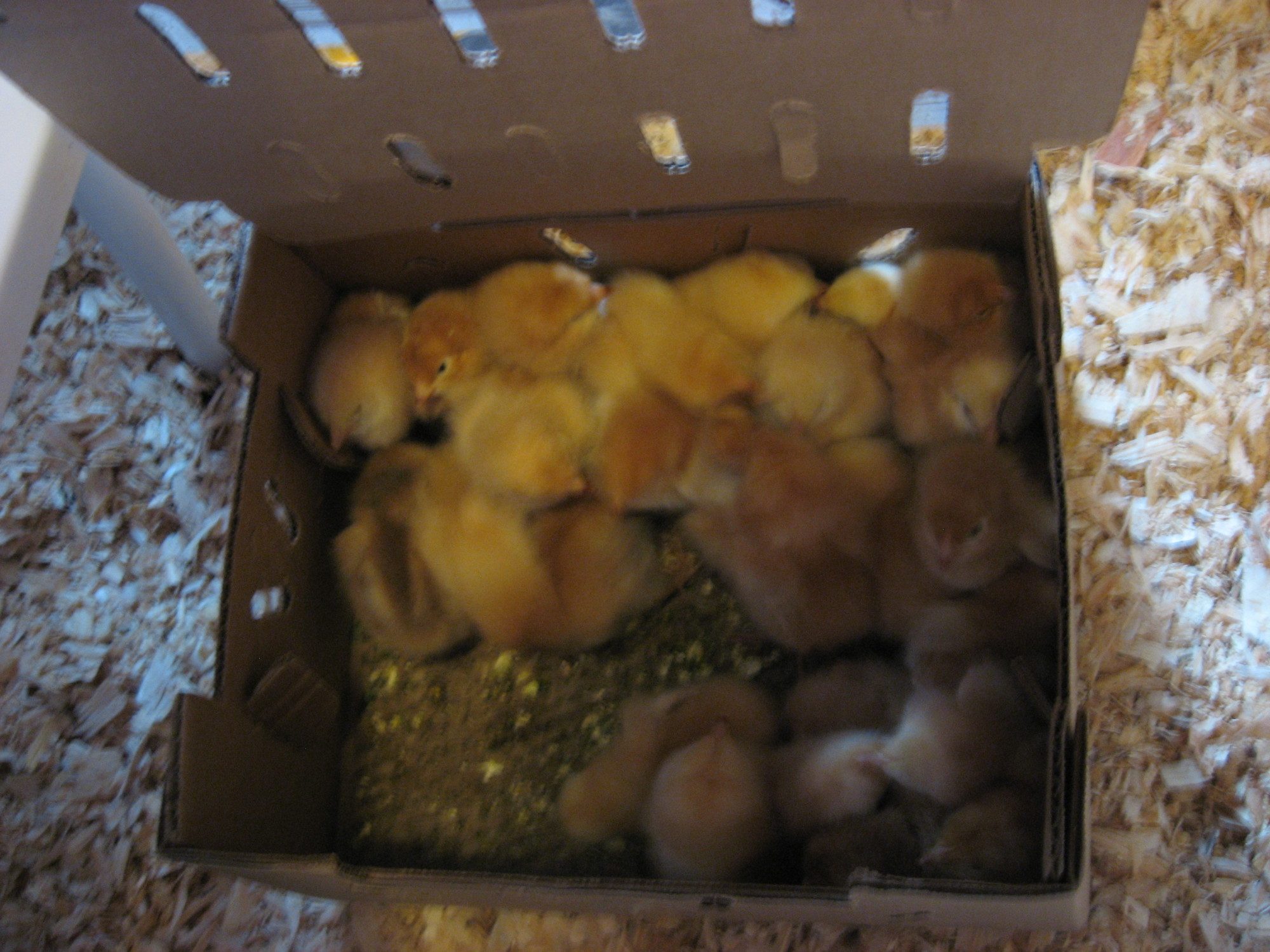 Their shipping box was surprisingly small - but all fit inside and were warm enough despite our below freezing night. Whew!
After getting a couple drinks each (3 dips of each beak and swallows between), the chicks were eager to explore their Brinsea Ecoglow 50 and their new home. Each chick stands about 3" tall to the shoulder. I had mounted their nipple waterer a bit too high (set at 6-7" tall), so emergency back up waterer was placed into their brooder.
The brooder is a pallet with 2'x4' plywood sides screwed into the pallet. Two layers of cardboard cover the pallet base. A full bag of pine shavings covers the floor at least 2" deep. The Ecoglow is on paper toweling (which seems to limit how much the legs go down into the shavings) for now. I've changed the toweling at evening check and will change 2x/day for these first few days. Likely will stop doing paper toweling under the brooder heater by mid week (5 or 6 days with us) and simply allow the pine shavings to be the base.
Upon initial examination, there were only 4 or 5 chicks who had the beginnings of wing feathers. However, by the end of the day, I'd estimate that at least 1/2 of the chicks have wing feathers! And those who came with them are nearly fully out! Mercy they grow quick!
One is 'chickmunk' colored, the others are either strawberry blonde, blond, light brown with blond wings or light brown. It'll be interesting to see what colors come out.
We did not attempt to weigh them today. Our smallest scale is a postal scale from the 60's - we'll try next week to start documenting weight gain with our ounce scale.
So this is our beginnings! Healthy, happy chicks in the barn! Safe from predators. With the Ecoglow, I'm confident they'll be ok in an unheated (but well insulated) situation. They've been doing great all day - popping out to get food and water, dashing under to warm up, scrambling out to run madly around their new surroundings.....They've been a blast to watch, it's truly better than tv! With two windows in their 'room', they'll likely sleep well tonight (full moon though) and start a real day/night schedule thanks to the Ecoglow.