Although I grew up on a small farm with chickens, goats, sheep, etc, my husband and I are total newbies at the backyard chicken raising adventure. We spent hours and hours pouring over coop designs on this forum before we set about building our own. We knew we wanted nesting boxes that can be accessed from outside the coop, and something that was easy to clean and comfortable and secure for our girls. We also wanted to keep costs to a minimum and to use recycled materials as much as possible.
We are fortunate to have access to old barn wood and the remains of a very large hen house and chicken yard on my grandparents 60-year-old farm. We made a few trips out there to see what was available and came away with almost everything we needed to build our coop and run. The nesting boxes are made from old army ammunition boxes, the framing is lumber reclaimed from my grandparents barns and outbuildings, the smaller guaged chicken wire was from pen my grandparents used to raise pheasant and quail chicks, and the larger guaged chicken wire is from my grandparents chicken yard (which was the size of most urban back yards!). My favorite part of the coop is the bead-board cabinet doors that we found in my grandparent's garage, complete with their original (naturally distressed- very chic! lol) white paint and red latches and hinges.
We had to make several design modifications to accomodate the materials we had on hand, but we are very pleased with the result. My husband and two older kids (ages 10 and 8), figured out the final design and made it all work together. The kids helped with all of the measuring and cutting and construction, and it was a great family project. Our final out-of-pocket cost for materials was $11.45. Our result: a safe and comfortable coop and run made almost entirely from recycled, reclaimed, and repurpose materials.
Every time I see it, I smile because it reminds me of my grandparents' farm!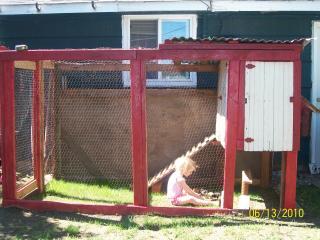 (our babies at one week checking out their new digs- we can't wait until they're big enough to move into their big-girl home!)