I just got into geese this past year and I bought too many birds for my property. I need to cut back a bit. I am selling one pair of Shetlands that have already started laying this season. I believe they are turning three this year.
I also would like to cut down my white Sebastopols and grey Giant Dewlap Toulouse by a pair each. I cannot vent sex myself, but I did have a reputable local goose breeder sex them for me when they were a few months old. They are just turning one year this spring.
I am located in Long Island, NY. I haven't yet taken decent photos, but I have some horrible group photos taken in the mud. If that isn't a great marketing photo.....I hope to get out there to get better shots this week.
If you are interested, please contact me directly at
[email protected]
as I don't get here to check e-mail every day. I am on my AOL account quite regularly, though.
I do have a photo of the Shetlands:
and my muddy geese: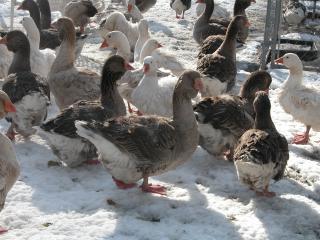 I am also selling two or three female pilgrim geese.
Last edited by a moderator: