I got Rainbow Layers from MM. There wasn't much Rainbow going on in the box. Ah, well. What do think we have??
Mystery Chick #1. About a week and a half old. Quite a bit of yellow with a black back. She's feathering out yellow w/ black as well. Legs are orange. Orange beak and nostrils. Very friendly.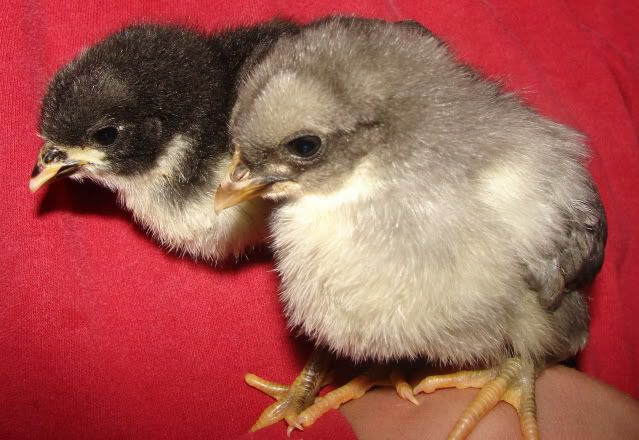 Mystery Chick #2. Dark gray lady w/ some lighter spots. Feathering in quite grey. A bit flighty. Legs are greyish. Beak is grey and yellow. Shown on the right next to a slightly younger black star baby. Their markings are very similar, but the mystery chick is much lighter in color.
Mystery Chick #3. This one came pretty solidly light grey, but is feathering in quite light. Whiteish, but you can still see the grey hint there. She has grey on her legs, but a pretty yellow beak. On the smaller side.
Mystery Chick #5. This look similar to number 3, but they are definitely distinguishably different. She came mostly yellow, with a grey spot on her head and some grey around her eyes. Greyish feet and beak. She is feathering in quite grey, which is the opposite of the one above. LOL Also smaller in size.
Mystery Chick #6. This little guy we got St. run from the feed store to assort our assortment. LOL He's growing quite quickly. Almost as big as my older ones already. RIR? Red Star hen? This one's feathering in a bit mottled. Red w/ brown. Despite the little eyeliner spot, this looks much too plain to be an Ameracauna.
Mystery Chick(s) #7. We have 22 that pretty much look all the same. I keep trying to convince myself that there are several breeds among these, but they're really very homogenous. Seem to be feathering in quite white. Orange legs, orange beaks. I'm hoping these aren't all Leghorns, as we already have 9 adults in the hen house. This pic shows it yellower than it really is. The colors are closer in the pic below.
And, the whole clutch sleeping. The blacks and red in the middle didn't come in the mix. I added them a few days later to make up for my dissapointment in the lack of a mix. LOL 3 are St. Run Australorps, one a black star pullet and the last the red mystery from above.
Thanks for your guesses!