HAPPY ST. PATRICK'S DAY!!!
SPECIAL ST.PATRICK'S WEEK SALE!!! All Shades of Green Eggs are $5 each Shipping Included!!!
You can choose the Beautiful Shades of Green that you like:
We have our Black Copper Maran Rooster(Very Handsome boy hatched from Adamsonacres.com eggs)
Covering the following hens:
Blue Copper 3rd Generation Olive Eggers(they lay the DARK DARK DARK ARMY Green Eggs!)
1st Generation "Olive Eggers" these are blue hens and black hens that are half Giant Cochin and half Araucana...beautiful heavy full feathered girls with feathered legs that are giving me nice " Light Sage Green" eggs!!! Pretty!
Their chicks could lay medium olive to dark olive colored eggs!!!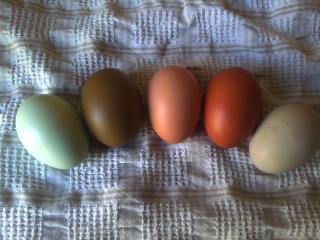 (The Light Sage Green egg is the one on the right)
All eggs will of course be collected fresh and stored properly prior to shipping. Please feel free to PM with questions or email me at
[email protected]
Thanks for looking!
Last edited: