I just opened a new bag of Purina Flock Raiser and it is different looking from what I have been feeding for 3 years. The color is darker. Date on bag is Feb 6, so it's barely over a month old. And my chickens and chicks are not loving it as they have loved previous batches. This is what I just wrote to Purina:
"My chickens have loved Purina flock raiser crumbles for years. I have bragged about it to everyone, how they never waste any, how they eat every crumble. However, the most recent bag, opened yesterday, is different. 8FEB06STJ1 is the # on the bag, so it is fresh. The feed looks darker. It smells fine to me, but my chickens don't like it so much. Yes, they are eating it, but I'd say they are only eating half what they did previously. This is a BIG change and I am very concerned. What has changed in this feed???? I may have to go with something else.
I have 15 chickens, 9 adults, and 5 chicks, and all have been eating Purina Flock raiser, and both age groups have balked at this new batch."
The chicks are still in a brooder, separate from the hens/rooster. I always give them all some of it dry and also moisten some to ferment over night. It seems the moistened new batch of feed has a completely different texture, it's sticky and dissolves almost. It gets even darker. I'd call the original flock raiser a golden color, and this new, a liver color.
Has anyone else noticed a change in this feed? Can you recommend a different brand?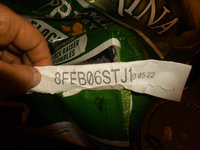 Last edited: