Hi!
I always go to BackYard chickens for advice and problems and have now become a member of this wonderful community!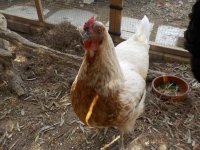 Chicharito (Little Pea) and Cantona
I'm English and have lived on the Greek island of Aegina for 16 years. I have only have two beautiful girls at the moment, Cantona and Chicharito. It is often difficult to get quality supplies and small-scale poultry-keeping habits are very different in Greece to when I kept chickens in England! I look forward to exchanging ideas and experiences!