Hello, please help! I heard a strangled cry of a chicken and ran outside quickly. I soon found out that one of my hens went missing and I frantically looked everywhere for her. Since I couldn't find her in my backyard or around my neighbors, I gave up until my mom came home. When she got back, she immediately found her in our chicken coop and said that she was hurt. When I went out to grab her from the coop, the injuries are much worse than I thought.
The feathers on her back are almost gone and she suffered quite a bit of damage on her tail as well as in the neck area. Can anyone please give any advice and treatment?!? I've never treated wounds this badly on my chickens before.

( The treatment I've done so far is neosporin ointment (I plan to buy the spray version tomorrow) and wrapped her body with a cloth. I plan on keeping her in the house with me until her wounds heal.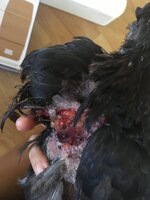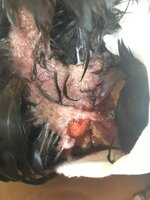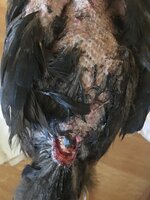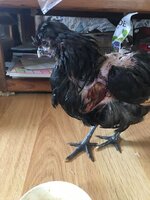 Thankfully she's drinking water and eating (she's been eating yogurt, corn, noodles, and the standard chicken grains.)
I'm not sure what attacked her, but my parents and I all have separate guesses. My dad thinks it was a cat, my mom thinks its a mouse, and I think it's a dog. :/
Last edited: