Hi. One of my 3 mo old chicks was pecked badly by one of our adult chickens and her head is a mess! I didn't actually take any pics of the first day - I was too upset and just read on here what to do and got her through the first few days (this happened Saturday 7/17 - 6 days ago). We kept her inside for the first 3 days then put her in a crate inside the area where our other 3 chicks are so she can see them but none of them can see her. We have also completely divided our enclosure so that our 5 adults hens (2 NH reds/1golden wyandotte/1 RIR and 1 legghorn) are on one side with the coop to themselves and access to a large area that is enclosed with poultry netting and the 4 chicks (2 barred/ 2 blue australorp) now have half the enclosure and their own smaller coop and the adults are completely separated from the chicks. I am now trying to figure out 1) what do I do for her wound at this point (if anything)??. I have added pictures - up until yesterday I was covering it with bacitracin 2x/d ( the whole wound looks yellow because I initially put some antibiotic/antifungal/topical coating stuff from our vet on it) - then yesterday I stopped with the bacitracin and I covered the wound with blue Kote. She was so lonely and I wanted to let her at least interact briefly with the other chicks. There is a flap of skin on the left side of her head - that was the skin that covered her head - it didn't re-attach despite my best efforts - but it also is viable tissue so I didn't cut it any...and there is now a thick scabbed area at the base of her skull which is really thick...should I be trying to get the scab off??!?? I am inclined to leave the whole thing to heal on its own with blue Kote on it but don't want to deal with maggots or anything awful like that...
also _ wondering when I lcan et her be with the other chicks again. she is clearly lonely and bored by herself in the crate but she is also definitely now at the bottom of their pecking order. I have watched them and they have pecked toward her head a few times but they are not aggressive as long as she moves along. I just left all 4 of them are roosting together but am not sure if I should isolate her again during the day tomorrow??!! ( I won't be home to supervise..)
First pic is what her head looks like now with blue Kote - further ones are older from 2 d ago. also included a pic with her next to the other blue australorp...She is SO MUCH SMALLER - has been from day 1 - not sure if there is something wrong with her??!?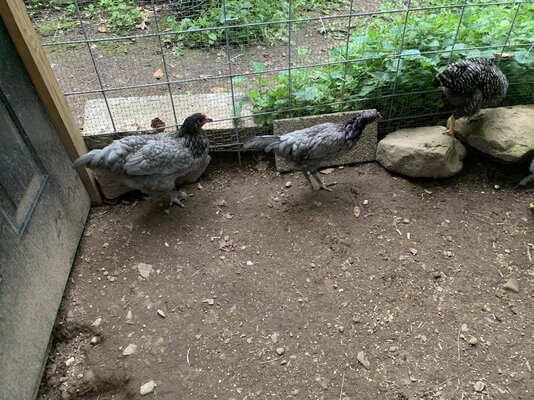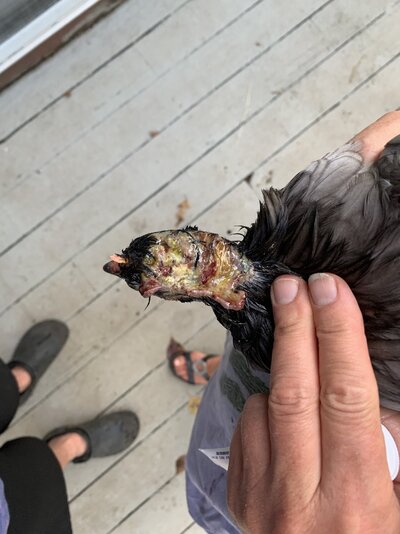 Thank you in advance for your advice!!!!