We have 24 hens and about 6 roos. We just got flooded out, Moved hens around, traded some hens and switched to a different feed. The weather has also gone from high 80's to mid 70's during the day and to the 40's at night now. I know that the daylight hours have changed also but I am using additional light to make it 15 hours of light. I am not the only person around here with the same problem at least 5 others I know have basicly the same problems but are not using lights. ! lady I know has used the same feed supply and her RIRs and Marans are doing fine but she did not get flooded out. I have Marans, RIRs, Leghorns, Easter Eggers and Barred Rocks. The leghorns are the only hens laying.
The thing I know is all the above will mess with a hens ability to lay but it has been over 2 weeks since everything has happened. I am going nuts and so are the other people. They have tons more chickens than I do. The feed we are getting is from a supplier that is making the feed same as purenia laying mash but slightly higher protien content 18% at least. I am just wondering if there is something missing from the feed because we are getting it at a really good price about 3 times less per 100 pounds. I have 200 pounds of the feed left and 1 friend bought 2000 pounds and the other bought 1200 pounds. the lady only got 200 pounds from her son that bougt the same feed.
Please if you have any Ideas let me know I am relly in kinda a bind and I relly could use the egg money.Thanks to all.
P.S. I want to thank everyone who has said a prayer for me and my family. I am doing some better since my last surgery. The back surgery was 14.5 hours and they fused me 7 levels, The 2 heart attacks changed my eating habits and my life style some also but the Diabeties has really got me down. I have gone from the 500 to down to 200's sometimes but still hit the low 300's at times. Taking 3 meds for it and I have seen some getting better this month. My eye sight is rather better now but still not great. legs and feet burn but at least I still have them all including all my toes. Thanks to all and thank you Dear Lord. Thanks to all, Dave
Couple of pictures of my birds
RIRs that I got the eggs from William. Thanks They are really dark and big
2 Blue maran hens I raised from eggs and 1 BCM hen I also raised
Blue splash hen I raised from eggs. She is sweet but not laying yet.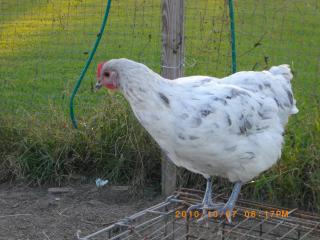 This si an Easter Egger roo I got from a friend. he is nice and so are his hens. They lay blue eggs but none in the past 2 weeks.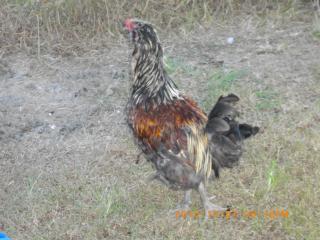 My number 1 BCM Roo. I love this guy and he is very friendly. I raised him from eggs I got from a friend here in NC.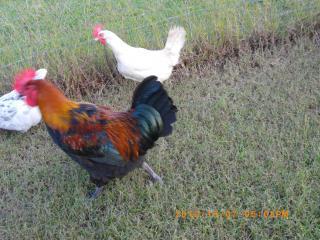 My large blue roo. He has 2 blue girl friends.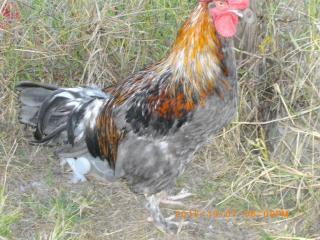 My blue splash roo raised him also. he and the blue splash hen never leave each other.
Couple of hens and 1 blue Maran hen.
Thanks for looking sorry for all the roo pictures but the hens were to fast for me.