Stares at Chickens
10 Years
May 6, 2009
1,656
110
201
My Coop
I lost my 12 year-old cat a few weeks ago and was thinking about adopting, but of course I thought I wasn't ready. But, I kept seeing all these cute kittens on Petfinder and the shelter just happened to be having a reduced fee adoption event. So....... meet our new kitten

We're fostering her until she's old enough to be spayed and qualify for "full" adoption. She only weighs just over a pound at around 8 weeks give or take a bit. It was love at first site for my daughter (3 1/2 yrs-old) and I think I'm in love too, LOL. I like this kitten's personality, spunk and sweetness all wrapped up in one fuzzy package

Any idea on some names??? I like flower names

and her shelter collar had Cali (short for calico of course) written on it.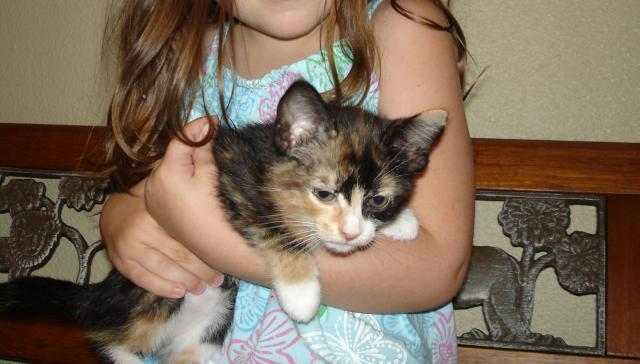 VERY SAD UPDATE: She stopped eating and was put down at the shelter today due to panleukopenia.

THIS IS HORRIBLE as panleukopenia can stay in the environment up to a year. My older cat is even at some risk of getting it but luckly she didn't have much contact with the kitten and is up on her vaccinations. We cannot adopt or foster for at least a month and should not get any cat younger than 5 months. Any cat we bring into our home must have full vaccinations with perferably several boosters.
I don't know what else to say......
Last edited: