I went back to the feed store a week ago to get another Ideal 236 because my daughter liked the one we got and i was hoping for a few more eggs. I wanted one the same age as the ones i have at home so i wouldnt have to separate mine so i paid more to get them out of the outdoor run. When they are back there they are no longer sorted by type, you just have to eyeball them. the guy grabbed me a white one and handed it to me (with the polish that i bought cause it was so cool!) in a box. i paid and left. so every day for the last week i've looked at this chicken and thought "you are NOT an Ideal 236..." I think shes an easter egger. Which is a bummer on my "i want more eggs" front. What do you think?
This is my "for sure" Ideal. She was sorted when we bought her.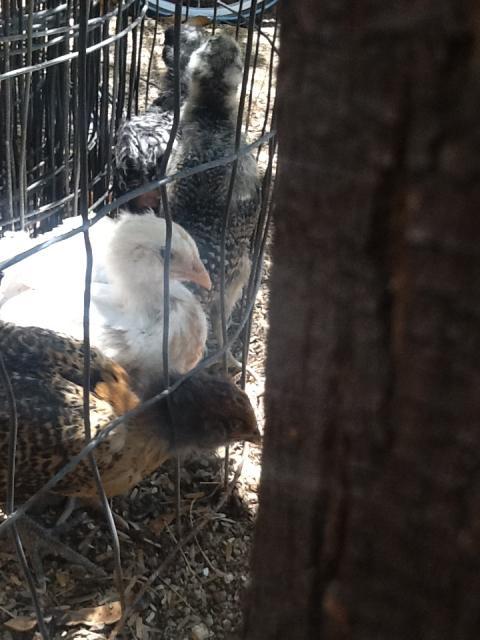 Those are two of my "new" girl. Look at her brown chest...Ideals arent supposed to have brown right? and no comb at all? my Ideal had me thinking she might be a roo for a min until i asked yall! I'm thinking shes an EE...
If shes a med laying breed i sorta want to get another. But it seems mean to exchange her. Will they give you a free chick? is 8 too many chicks?!
PS they are NOT In a cage here. They were "free ranging" (playing under my very watchful eye outside for a few min. They are too little to be left out, imho. But they saw me with the ipad taking their pictures and ran behind the shed where there is a roll of spare fencing and decided to run in and out of its holes. They just want to make me look bad.