Frugal Fan Club President
14 Years
Jan 20, 2008
1,799
54
306
It's been almost two decades since I last owned geese, which wasn't the greatest experience . . . while Mom and I were gone a week visiting family, my ex-dad decided to release my geese on some random city pond. He refused to tell my mother where, and she spent a long time trying to find them with no luck. I was about 12 or so and it was pretty traumatizing for me, enough so that I didn't attempt to raise any waterfowl for a long time.
Fast forward several years . . . I married someone who is, if anything, a poultry enabler, and who can't even comprehend the thought process that would go behind a stunt like the one my ex-dad pulled. So 1 year ago I decided I was getting myself some geese again, a few months later I've set on the breed I want, more months spent waiting to be able to place an order, another month or so for that order to be shipped, and . . . "ding, dong!"
Me- "DEAR GOD, HONEY, IT'S THE MAIL! THEY'RE HERE, THEY'RE HERE!"
Him- Stop screaming and get the door.
And so, I present to you Cuddy and Hobbes.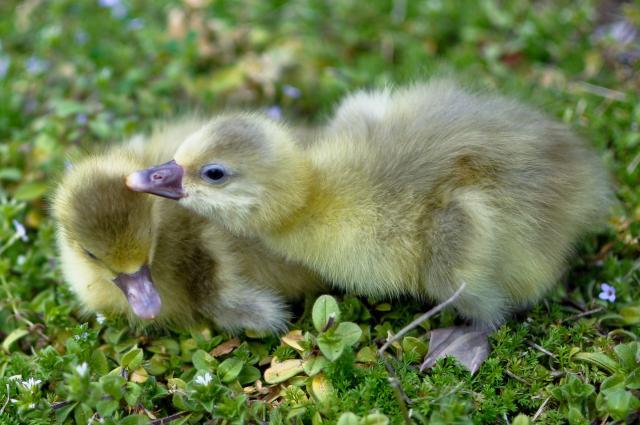 When we first took them out it really subdued me, because they brought back memories of my former geese, and how, given a long life, they would still be with me if circumstances had been different. I'm working my way back up into the ultra, almost-too-excited mood again, though.

They're both female Pilgrims. I decided against a pair because I really have no desire for hatching eggs, but the possibility of eggs in general is always welcome . . . plus I just like the female Pilgrim coloring.

Growing up fast . . .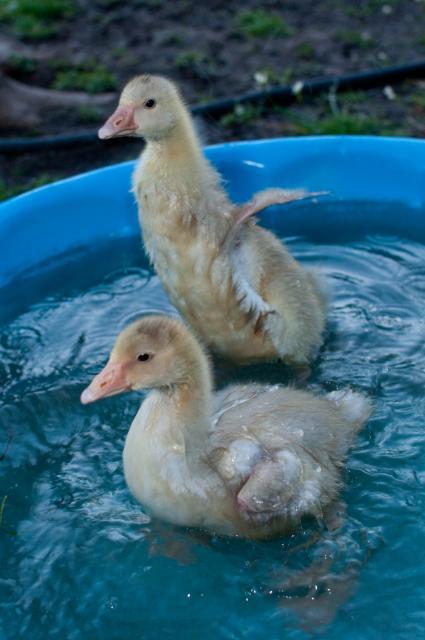 Last edited: