Oval Office Courier
10 Years
This modified A-frame tractor-coop, called "Nolia's Ark" after our oldest pullet Magnolia. It will be housing 4 silkie hens,
and it's constructed of 100% black locust, locally milled.
--Yes, it's been sanded, dusted & hosed down to get rid of the fine sawdust.
My question is: do the gaps in the walls pose a problem next winter in SW PA?
Is the insulation we're going to do enough? What about the small gaps where the door frame meets, etc.?
Here's the insulation we'll be doing so far:
The ceiling will be insulated with 1/2" sheets of styrofoam & some leftover plain pine wainscoting .
The hardware cloth --proportionally huge--windows will be covered with lucite panes at night, and insulated pine inserts in the coldest of winter.
The triangular gaps on top of the triangle doors will be of metal grill-work. They're our vents in winter. They're about 3.5" each side.
The entire interior is 5 feet long by 32" wide, and the walls slope outward toward the top.
This coop will be sitting on our wooded hillside just above & behind our house, at the edge of a small forest.
Does the upper coop part seem predator proof? We have no foxes or rats, just raccoons so far.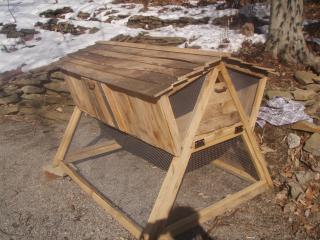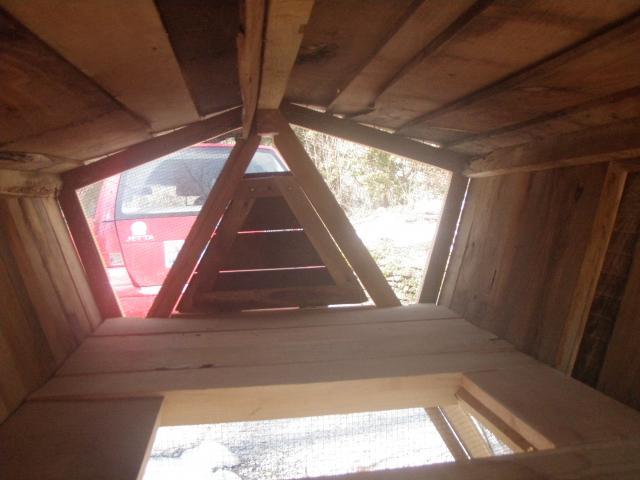 The big hole in the floor of the third picture will have two locust trap-doors that latch from the inside, leading to the gangplank.
There will be one nest box inside & plastic trays with 1-2" pine shavings
The gaps in the wood roof will be covered.
Last edited: